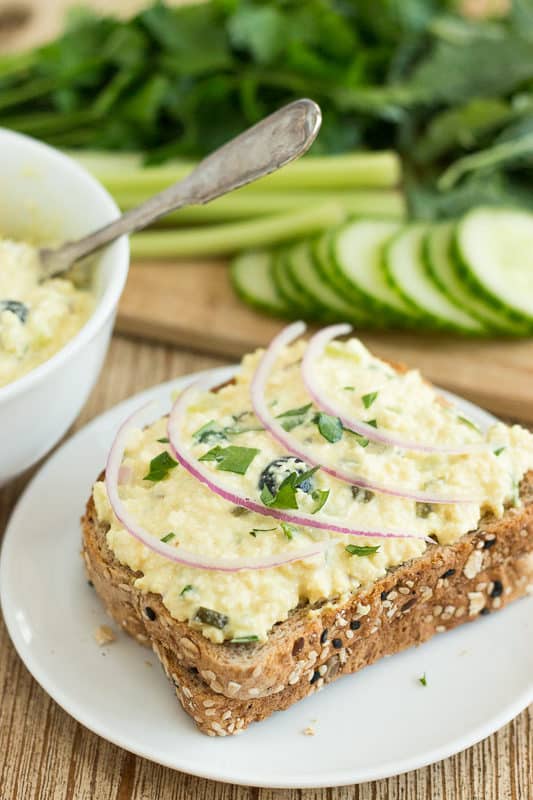 When I was a kid, my absolute favorite lunch was fried tofu sandwiches–which basically consisted of scrambled tofu (kind of like the version used in these breakfast burritos), a homemade vegan mayonnaise (my dad made a variety from potato flour back then, because, hello, there was no such thing as store-bought vegan mayo in the mid-90s), and some veggies on whole grain bread. It was tasty, kid-friendly, and I loved it. In fact, one of the very first things that I learned to cook–when I was about 10– was scrambled tofu in a skillet on the stove. As I prepped the tofu and diced it, I always threw a few little raw tofu cubes into my mouth. Yes, RAW tofu. I loved it (and still do)–even without any seasonings or flavor. Yes, I'm weird.
Of course, I don't expect most people to love uncooked tofu like I do. BUT, I do think you're going to love the fact that tofu essentially always takes on the flavor of whatever you choose for it. In this case, we're going to bring flavor to tofu with vegan mayo, Himalayan black salt, lemon juice, sugar, garlic, onion, and pickle relish. And yes, thank you, that Himalayan black salt is what gives this spread it's egg-like smell and flavor. But, of course, if you don't have any black salt on hand, regular salt works fine too.
So, basically, what I'm trying to do, is prepare you for the fact that you're not going to be cooking any tofu in this recipe. I know, I was skeptical at first too, but trust me on this one. You'll be pleasantly surprised, and I think you'll love it too.
You'll be slapping this stuff in sandwiches, spreading it on crackers, and dipping carrots and cucumbers into it. Need to take something to a vegan picnic or potluck? We've got you covered on this one.
Need an easy and filling grab-and-go lunch for school or work? Yup. You need this stuff.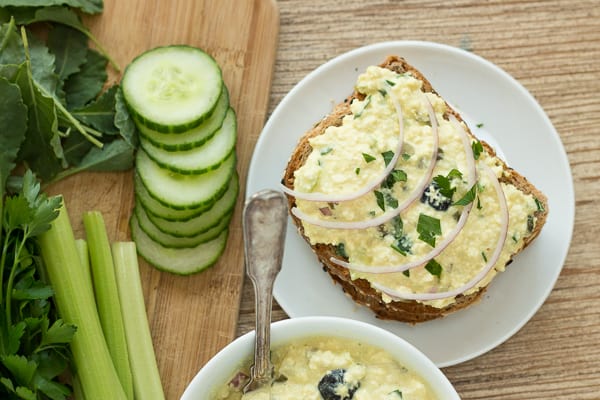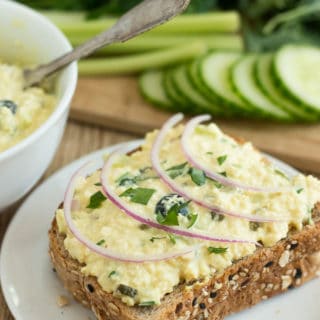 Print Recipe
Vegan Tofu Egg Salad Sandwiches
A delicious vegan alternative to egg salad that tastes great in a sandwich, or as a dip for vegetables and crackers.
Ingredients
1

block

extra firm tofu

(about 16 oz)

2/3

cup

vegan mayonnaise

1/3

cup

sweet pickle relish

I used Pa's Pickle Relish, which is a vinegar-free variety

1/3

cup

diced celery

3

tablespoons

finely diced red onion

1/4

cup

sliced black olives

2

tablespoons

minced fresh parsley

1

teaspoon

onion powder

1/2

teaspoon

turmeric

1/4

teaspoon

garlic powder

1

teaspoon

Himalayan black salt

or sea salt, if you don't have black salt

1

tablespoon

lemon juice

1

teaspoon

sugar
Instructions
Drain water off block of tofu. No need to press.

In a bowl, mash tofu until crumbly.

Add remainder of ingredients, and stir until well-combined.

Place in refrigerator for 2-3 hours. This allows the flavors to blend properly and for the turmeric to brighten this salad into a beautiful light yellow color resembling egg salad.

Spread on slices of bread with your choice of veggies for a delicious sandwich, or use as a dip for vegetables or crackers.
Nutrition
Calories:
230
kcal
|
Carbohydrates:
10
g
|
Protein:
5
g
|
Fat:
18
g
|
Saturated Fat:
2
g
|
Sodium:
775
mg
|
Potassium:
130
mg
|
Sugar:
5
g
|
Vitamin A:
325
IU
|
Vitamin C:
3.3
mg
|
Calcium:
27
mg
|
Iron:
1.1
mg