Are you looking for an easy and delicious lunch idea that the whole family will love? Look no further. These vegan rainbow peanut noodle bowls are light and healthy, full of nutrients, and downright scrumptious.
Back in the 90s, when my family first adopted a plant-based diet, vegan junk food wasn't an option. Dairy-free milk was only available in powder form. Vegan cheese-like packaged products were unheard of. Vegan meat substitutes were rare. But times have changed.
I truly live in the middle of nowhere (and meat and potato country at that), and even my little grocery store carries 3-4 different varieties of vegan meat substitutes, 3-4 different varieties of vegan cheeses and yogurts, 3-4 different varieties of non-dairy milks, 2-3 different vegan butters, and I could go on and on. While having access to all of these different vegan processed foods is truly amazing and fun, sometimes we can forget how much healthier whole plants are. It's so so important to fill our diets with whole food, plant-based ingredients, and use the vegan processed stuff as special treats, not as staples.
With that being said, like many of us, I'm trying to support my health and boost my immune system right now, but eating ALL THE GREENS! One of my favorite ways to get my greens in with this delicious rainbow noodle salad with a sweet and salty peanut sauce.
How to Make Rainbow Noodle Bowls
This is easy. To get started, bring about 10-12 cups of water to boil in a large pot.
While you're waiting for the water to boil, assemble your ingredients, starting with your noodles. You can use 1 pound of any noodles that you like (even pasta works), but my favorite noodle for this recipe is rice noodles. I use the brand pictured below.
For this recipe, I'm going to boil the noodles for about 3-4 minutes, or until they are just al dente. If you're using pasta, you will want to follow the package instructions for cooking time.
As soon as the noodles are cooked, immediately drain and rinse them thoroughly with cold water. The cold water helps keep your noodles from becoming sticky and overcooked. Now, toss your cooked, drained, and rinsed noodles in about 2 teaspoons of sesame oil.
Now it's time to make your peanut sauce. I like to use a food processor to make my sauce as smooth as possible. But, if you don't have a blender or food processor available, you can definitely use a small bowl and mix with a form or wire whisk.
Making the peanut sauce is easy, just place all sauce ingredients in a food processor and grind until everything is smooth and creamy. If you're not using a food processor, just make sure that your garlic clove is crushed with garlic press or minced very finely by hand before adding it to the rest of your ingredients.
Next, you're going to go shopping in your own refrigerator. What vegetables, nuts, and seeds do you have on hand that need to be eaten? Pull them all out and slice or dice them however you like. Here are some ideas.
Topping Ideas for your Rainbow Peanut Noodle Bowl:
Kale
Broccoli
Avocado
Carrots
Red bell pepper
Purple Cabbage
Green Cabbage
Cucumber
Cilantro
Basil
Snow peas
Lettuce
Spinach
Cooked sweet potatoes
Red onion
Seaweed
Scallions
Tofu–fresh or fried
Nuts–peanuts, cashews, or almonds
Sesame seeds
Sriracha sauce
Now comes the fun part. Place a good helping of noodles on the bottom of your bowl, and arrange your vegetables on top. Drizzle your peanut sauce on top of everything.
Finally, Sprinkle some crushed nuts (peanuts, cashews, or almonds work well) and sesame seeds on top, and you're ready to eat it!
How to Serve Rainbow Peanut Noodle Bowls
One of the coolest things about this recipe is that it can be served in SO many different ways.
Arrange your own bowl and eat it alone (you might have leftovers). (See bottom of this list.)
Set up a noodle bowl bar. This is perfect for a light dinner party or office lunch. Line up all the veggie toppings, nuts, seeds, and peanut sauce in separate containers on a table or countertop. Everyone gets a bowl and serves themselves a helping of noodles, followed by their favorite veggies, nuts, seeds, and peanut sauce.
Use leftovers to create make-ahead lunches for yourself or your family. Simply build your bowl in an airtight single-portion container, but leave off the peanut sauce. Place peanut sauce in a separate small airtight container, and drizzle it over your bowl just before eating. Veggies in bowls should keep for at least 24 hours if refrigerated. Peanut sauce keeps for up to 7 days refrigerated separately from vegetables in an airtight container.
More Healthy Meal Ideas
Have you tried this recipe? Please snap a picture and mention @veganyumminess on Instagram so I can see what you made! Follow me on Instagram, Facebook, and Pinterest for more fun vegan recipe ideas.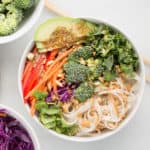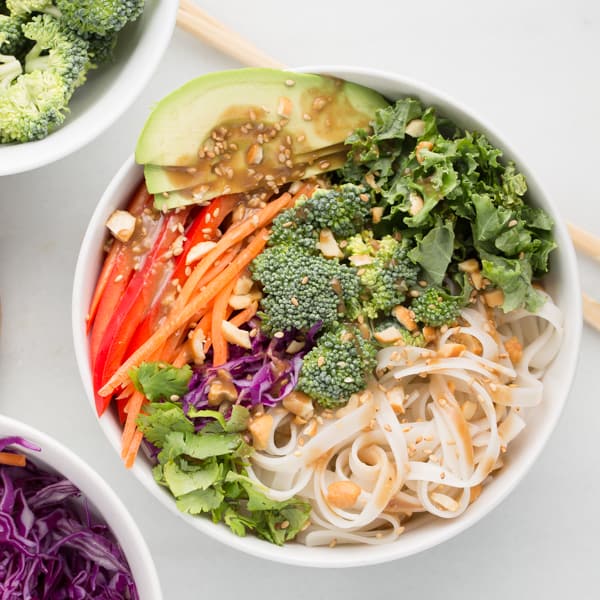 Print Recipe
Vegan Rainbow Peanut Noodle Bowls
Easy and delicious rainbow peanut noodle bowls are the perfect combination of comforting noodles and nutrient-dense veggies.
Equipment
Large pot

food processor or blender (optional)
Ingredients
For the Bowls:
1

pound

rice noodles

(or pasta)

2

teaspons

sesame oil

3

cups

finely chopped kale

1 1/2

cup

matchstick carrots

1 1/2

cup

shredded purple cabbage

1 1/2

cups

fresh broccoli florets

1

cup

chopped cilantro

1

avocado

(halved and thinly sliced)

1

red bell pepper

(julienned)

1/4

cup

sesame seeds

1/4

cup

crushed nuts

(peanuts, cashews, or almonds)
For the Peanut Sauce:
4

tablespoons

lemon juice

(fresh or bottled)

3

tablespoons

natural peanut butter

3

tablespoons

cane juice crystals or brown sugar

2

tablespoons

soy sauce

(or 1 1/2 tablespoon Bragg's liquid aminos)

2

teaspoons

sesame oil

1

clove

garlic

(pressed/crushed if not using food processor)

1/8

teaspoon

salt

1-2

teaspoons

water

(optional, if more liquid is needed)
Instructions
To get started, bring about 10-11 cups of water to boil in a large pot. Boil your rice noodles for 3-4 minutes, or until just tender and al-dente. Immediately drain and rinse noodles in cold water to halt the cooking process. Place drained noodles in bowl or strainer and toss in 2 teaspoons of sesame oil to prevent sticking.

Next, make your peanut sauce. This is easy. Place peanut butter, lemon juice, cane juice crystals, soy sauce, seame oil, garlic (chop clove of garlic a few times before putting in food processor), and salt in a food processor or blender. Blend until sauce is smooth and creamy.

If you don't have a food processor blender, use a creamy natural peanut butter and mince or press your garlic very finely before adding it to a bowl with remaining lemon juice, cane juice crystals, soy sauce, sesame oil, and salt. Use a small wire whisk or fork to stir sauce ingredients until everything is smooth and creamy.

If you feel your peanut sauce is too thick, add a few teaspoons of water, mix, and set aside.

Now prep your veggies. You can use the kale, carrots, broccoli, cabbage, bell pepper, avocado, and cilantro listed above, or you can use whatever vegetables you have on hand. Slice or dice them however you like. Crush or finely chop peanuts or nut of your choice.

Assemble toppings so they're easy to grab and build your bowl. Place noodles at the bottome of bowl, followed by vegetable ingredients of your choice. You can arrange your vegetables artistically, or just stir it all together. Sprinkle your bowls with crushed nuts and sesame seeds. Drizzle peanut sauce all over the top.
Notes
Other topping ideas for rainbow peanut noodle bowls include tofu, cooked sweet potato, green cabbage, fresh basil, scallions, red onion, lettuce, spinach, or sriracha sauce.
Store leftover ingredients separately in refrigerator. OR, create make-ahead lunch bowls for yourself, storing peanut sauce separately, and drizzle peanut sauce on top just before eating. (I recommend also storing avocado separately from you make-ahead lunch bowl.)
Sprinkle lemon juice on top of leftover avocado to help slow down oxidative discoloration.
Eat vegetables within 24-48 hours of chopping.
Peanut sauce and noodles can be stored for up to 5 days refrigerated in airtight containers.
Nutrition
Calories:
406
kcal
|
Carbohydrates:
65
g
|
Protein:
9
g
|
Fat:
13
g
|
Saturated Fat:
2
g
|
Sodium:
461
mg
|
Potassium:
593
mg
|
Fiber:
6
g
|
Sugar:
8
g
|
Vitamin A:
7449
IU
|
Vitamin C:
81
mg
|
Calcium:
133
mg
|
Iron:
2
mg