It's been forever! I feel strange typing this, and yet, it's so good to be back. Life has been nothing short of crazy these last few months–hence, my recent silence. To make a long story short, we purchased a house and made countless small (and some not-so-small) updates to said house, I started a part-time job as a nurse practitioner, and the girls have grown faster than weeds. I love creating and sharing recipes, but in the end, my family always comes first. And, this summer, that's what happened. With so many commitments, I just couldn't keep up with this here bloggity blog. I've written up a post schedule, and I'm hoping to serve you up a new vegan recipe every Thursday night. That's the hope.
Anyways, so I've been making this kale salad for months now–taking it to church potlucks, taking it to work parties, feeding it to my family. Jonathan and I can practically gobble up the whole thing in one sitting between the two of us. It's insane. Suffice it to say, I think you'll love it too.
Without further adieu, I (along with every other food blogger on the web) bring you kale. Ha! I think you'll love it, though.
My husband Jonathan grew up in Thailand. When we started dating (and subsequently hitting nearly every Thai restaurant in town), I not only fell in love with my now-husband (obvs), but I also fell in love with the rich flavors and aromas of Thai food. The chillies, kaffir lime, ginger, garlic, and galangal–all sprinkled with peanutty goodness–left me swooning. (Side note: If Jonathan was trying to win me over with Thai food, it totally worked.) Obviously, I'm not Thai, and my Thai friends would probably feel misrepresented by the fact that I call this a "Thai" salad…because, okay, it's not really Thai.
But it does incorporate all of my favorite Thai flavors into one delectable salad that will make your heart (oh, and taste buds) giddy.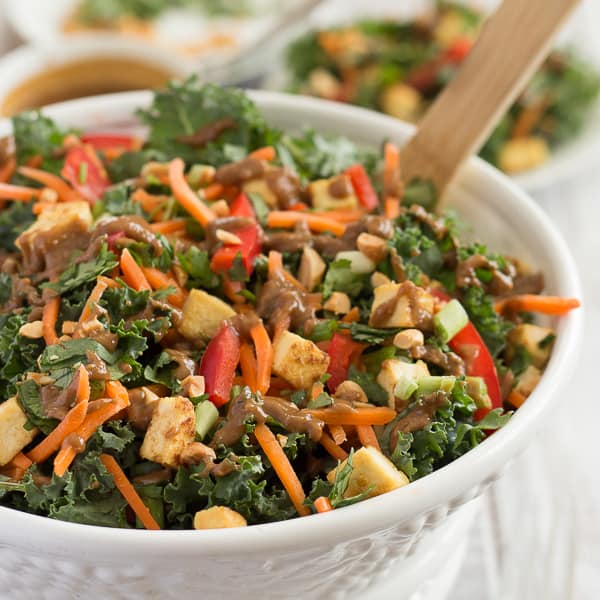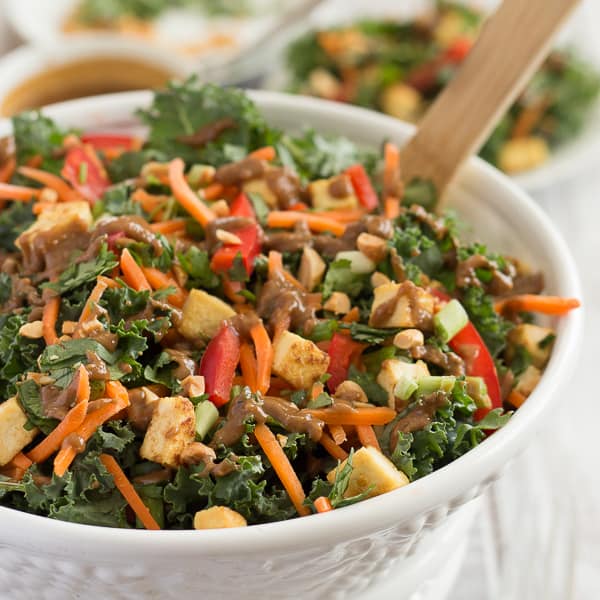 Print Recipe
Thai Peanut Kale Salad with Crispy Tofu
Peanutty Thai Kale Salad
Ingredients
For the dressing:
1/4

cup

smooth natural peanut butter

2

tablespoons

soy sauce

3

tablespoons

lime juice

2

tablespoons

sugar

2

cloves

garlic

2

teaspoons

fresh grated ginger

or crushed in your garlic press

salt to taste

1-2

tablespoons

water

if needed
For the Crispy Tofu:
14

oz

tofu

or 1 block extra firm tofu

1

tablespoon

extra virgin olive oil

1

teaspoon

salt
For the Salad
1

bunch kale

1/4

red bell pepper

julienned

1/2

cup

match-stick cut carrots

1/4

cup

fresh cilantro

finely chopped

2

stems green onion

finely chopped

1/3

cup

dry roasted peanuts

coursely chopped
Instructions
Assemble your dressing first by combining all dressing ingredients in a food processor and blending until smooth.

At this point, if your dressing seems a bit thick, you may want to add a few teaspoons of water. If you hate drying off your freshly washed kale (like I do), you may consider leaving your dressing thick until it combines with the water droplets on your kale, which typically makes the perfect consistency for me.

Place dressing (or processor dish) in the fridge while you prepare the rest of your salad.

Chop your tofu unto 1 inch cubes.

Heat olive oil in a non-stick skillet on medium to medium-high heat, then add tofu cubes to the skillet.

Sprinkle about 1 teaspoon of salt over the tofu cubes.

Turn tofu periodically to make sure all sides are golden--cooking for about 6-8 minutes.

Remove tofu from heat and set aside.

Wash kale, then tear kale leaves off of the stems and into bite-sized pieces.

Place kale into a medium serving bowl and top with your chopped bell pepper, and carrots.

Next, drizzle your dressing over your prepared veggies and gently toss.

Top salad with crispy tofu, cilantro, green onion, and chopped peanuts.

Serve and enjoy!
Notes
I've found that bunches of kale vary greatly in size. If you're concerned that your dressing won't cover all of your kale, go ahead and double the dressing recipe. There's nothing worse than a dry salad, and you can always save extra dressing for later. This peanut dressing will keep for up to 5 days in an airtight container in the fridge.
Nutrition
Calories:
167
kcal
|
Carbohydrates:
9
g
|
Protein:
8
g
|
Fat:
11
g
|
Saturated Fat:
1
g
|
Sodium:
633
mg
|
Potassium:
186
mg
|
Fiber:
1
g
|
Sugar:
4
g
|
Vitamin A:
2230
IU
|
Vitamin C:
16.4
mg
|
Calcium:
86
mg
|
Iron:
1.2
mg