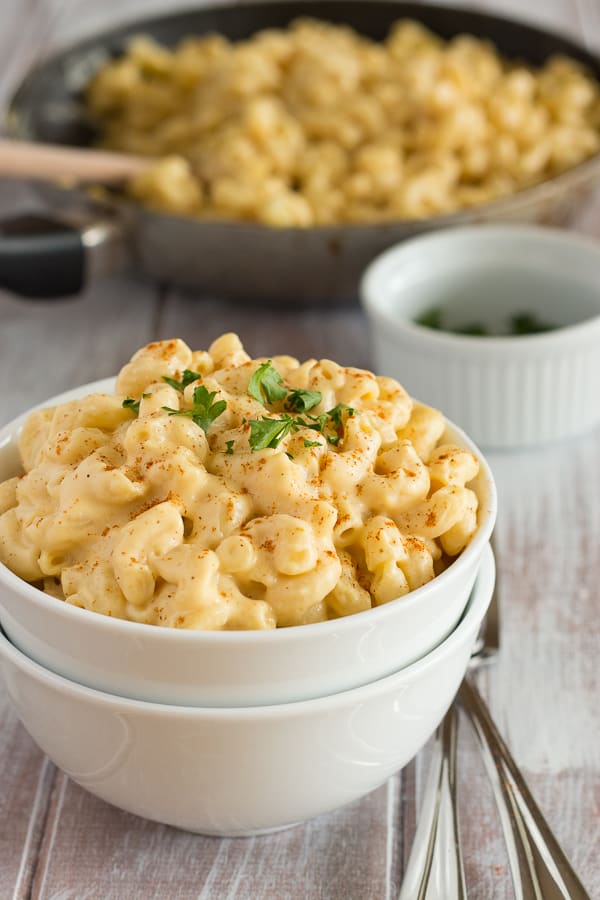 No, it isn't cheese…even though it kind of looks like it.
Instead, it's a creamy, flavorful alternative to the dairy stuff that will leave you richly satisfied in your decision to leave the cows alone.
I always feel bad when a non-vegan tastes vegan "cheese" for the first time. Like, how can this stuff be described except to call it a cheese alternative? We all know that, in reality, not a single one of the veg "cheese" alternatives out there tastes like real cheese.
Therefore, may I introduce you to not-real-cheese-but-still-delicious-creamy-yellow-sauce-over-macaroni??
Okay, that's just way too cumbersome.
Whatevs. Call it "cheese." Just give your non-veg friends a fair warning, mkay?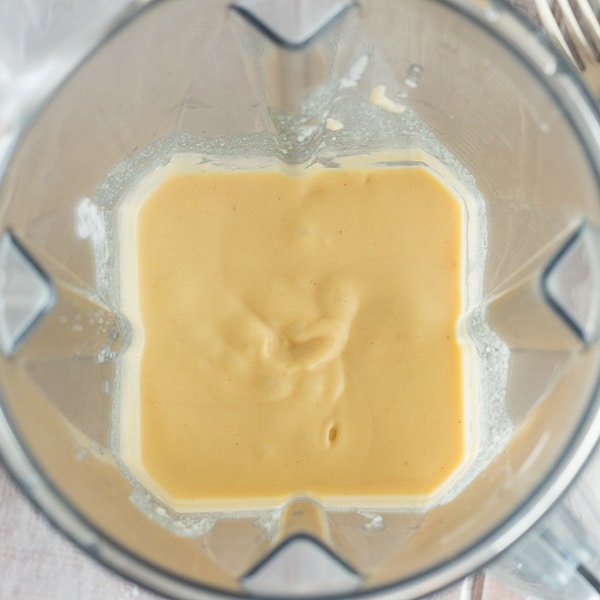 A few weeks ago, I discovered this recipe for vegan macaroni and cheese which was described by VegNews to be the "best on the planet." I knew I had to give it a try, but that I couldn't exactly follow the recipe (because, as you probably know by now, I don't follow recipes). The original recipe calls for over 1/3 cup of vegan margarine. I just couldn't do it. I use plenty of vegan margarine in cakes and desserts, when I eat them, but for mac and cheese? For Little M?
I just had to replace it with something else. And then, I had to add a few more items, because y'all know that's my nature.
So, today I bring you my crazily adapted recipe and what has become my favorite vegan mac and cheese–with no refined oil.
Who knew that potatoes, carrots, onion, cashews, coconut milk, and seasonings could make such a fabulous creamy combination? And that, when mixed with macaroni, that crazy combination will make your taste buds leap for joy?
Can I just eat it out of the pan like a bachelor?
Okay, I'll lay aside my strong animal-like urge to devour and take a moment to sprinkle paprika and parsley on the top.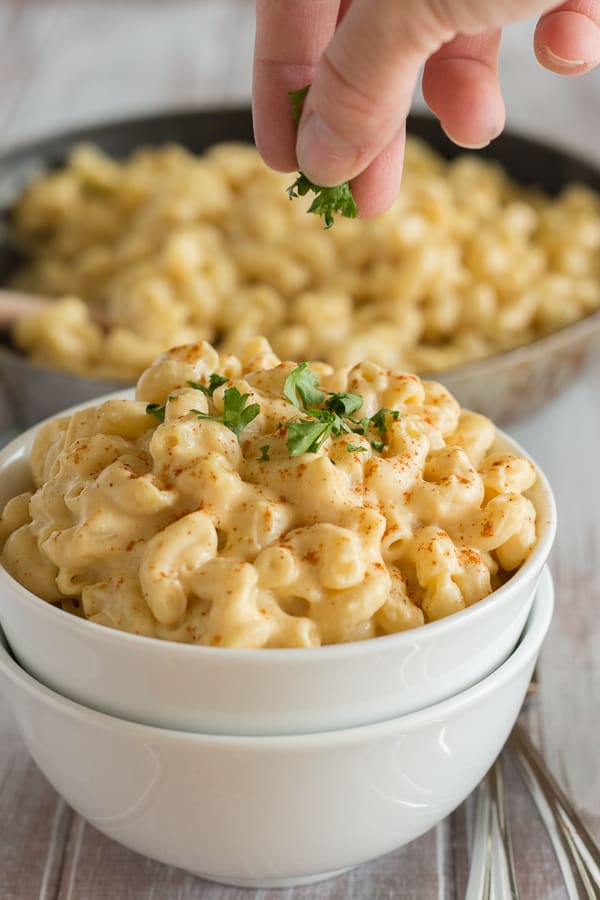 And that, my friends, is as far as got with photographing this bowl of yumminess before I starting eating it. Sometimes, you just can't wait any longer, you know?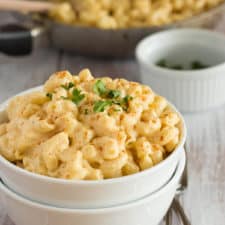 Print Recipe
Creamy Vegan Mac and Cheese
Super creamy, unprocessed vegan mac and cheese
Ingredients
10

ounces

dried macaroni

or about 2 2/3 cups

1

cup

peeled/diced yellow potatoes

or russets

1/4

cup

peeled/diced carrots

1/3

cup

chopped onion

3/4

cup

water

preferably use liquid from pot of boiled veggies

1/2

cup

raw cashews

1/4

cup

coconut milk

2

tablespoons

nutritional yeast flakes

1

tablespoon

lemon juice

1

teaspoon

salt

or more to taste

1/4

teaspoon

garlic powder

1

pinch

cayenne pepper

optional

1

pinch

paprika
Instructions
Cook macaroni al dente, according to package instructions (usually requires boiling for 6-8 minutes in salted water), drain, and set aside.

Bring several cups of water to boil in a small pot. Place chopped potatoes, carrots, and onion in the boiling water, and cook for about 10 minutes, or until vegetables are tender and soft enough to blend. Cooking time will vary slightly, based on how small you have chopped your veggies.

When veggies are soft enough to blend, use a slotted spoon to remove them from cooking water, and place them in your blender. Add 3/4 cup of that cooking water to your blender, along with your remaining ingredients (including cashews).

Blend until smooth.

Pour sauce over your cooked macaroni noodles in a dish of your choice, taste for salt, and serve immediately.

Or, place macaroni mixture in a baking dish, sprinkle with bread crumbs, and bake at 350 degrees Fahrenheit for 15 minutes, or until crumbs are turning golden brown.
Notes
If you are not using a high-speed blender (like Vitamix of Blendtec) for this recipe, I recommend soaking your cashews for at least 30 minutes before attempting this recipe.
This recipe is adapted from VegNews' Vegan Macaroni and Cheese: https://vegnews.com/articles/page.do?pageId=40&catId=10
(As an Amazon Associate I earn from qualifying purchases associated with links on this page, also known as affiliate links.)
Nutrition
Calories:
289
kcal
|
Carbohydrates:
45
g
|
Protein:
10
g
|
Fat:
7
g
|
Saturated Fat:
2
g
|
Sodium:
402
mg
|
Potassium:
421
mg
|
Fiber:
3
g
|
Sugar:
2
g
|
Vitamin A:
890
IU
|
Vitamin C:
5.9
mg
|
Calcium:
30
mg
|
Iron:
2.9
mg