Vegan curried lentil soup is loaded with sweet potatoes and kale, making it not only rich in flavor, but full of nutrients as well. You'll be licking your bowl clean!
I love lentils. If you've never tried lentils before, you're in for a real treat. Not only are lentils quick and easy to prepare, but they also have a nutty flavor with an earthy undertone that is especially satisfying in soups, salads, and casseroles.
Another fantastic quality of lentils is their nutrition density. Did you know that 1 cup of cooked green lentils contains nearly 16 grams of fiber? 24 grams of protein? 20% of the recommended daily value of folate? I know…it's crazy right?
So, what's the best way to incorporate lentils into your diet? The sky's the limit. There are SO many delicious ways to eat lentils. One of my favorite lentil recipes is this one right here–curried lentil soup–with deep spices, healthy sweet potatoes, super-food kale, and creamy coconut milk. Luckily, this soup is nearly effortless to make, and perfect for tonight's dinner.
Where to find lentils:
The good news is that plain and simple lentils (a.k.a. regular lentils) are easily found in most U.S. grocery stores, and these are the lentils you'll want for this recipe. There are many different kinds of lentils (French green, black beluga, and Puy, to name a few). But if you're looking for regular lentils, just look in the dried beans section (usually near the uncooked rice and sometimes near the Asian and Mexican foods) of your local grocery store. You'll likely find 1 pound bags of lentils for less than $2 per bag.
How to make curried lentil soup:
In a large pot, sauté diced onions and sweet potatoes in a tiny bit of olive oil just until tender.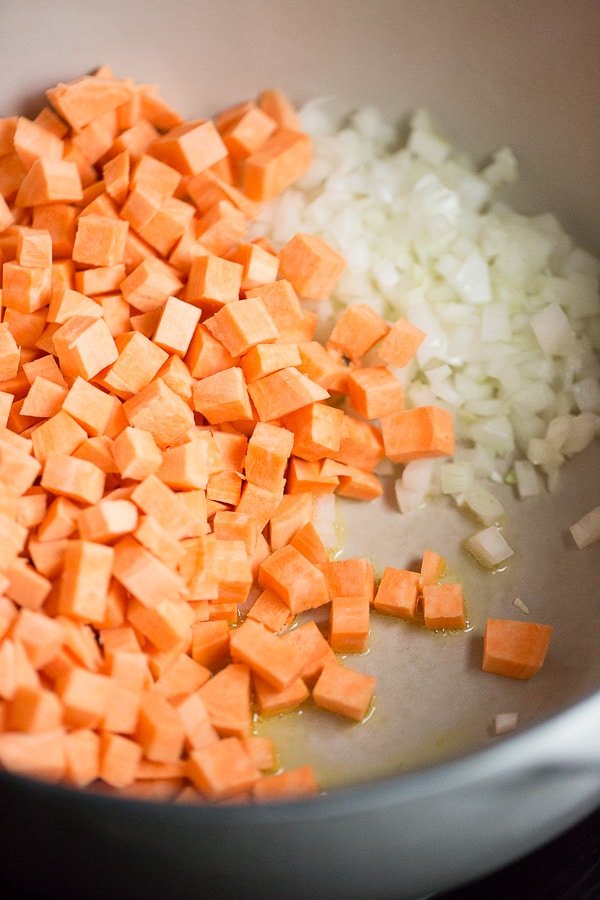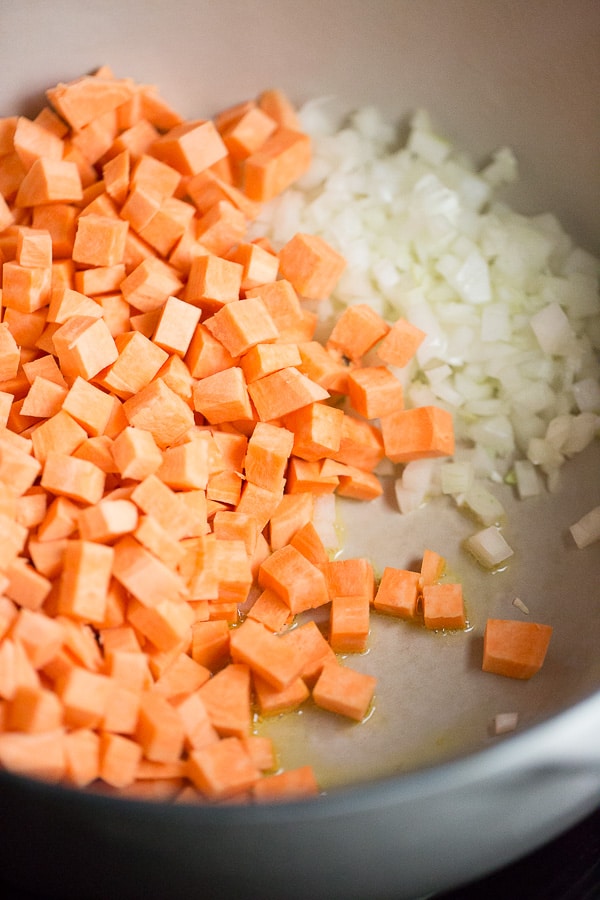 Next, add your spices, remaining aromatics, fire-roasted tomatoes, rinsed lentils, and veggie broth.
Add 4 more cups of water, and bring to a boil.
Cover pot, and simmer on medium heat for 25 minutes, stirring every 5-10 minutes,
When lentils are soft, stir in your coconut milk. I love watching the coconut milk solids slowly melt into this hot soup. Don't ask me why. It's just so satisfying.
Finally, throw in your chopped kale, and cilantro. I like to use baby kale for this recipe, because it wilts quickly and requires almost no extra cooking time. But if you're using regular large leaf kale (like I am in the photo below), simply simmer soup for another 3-4 minutes before adding the finely chopped cilantro. This is to keep your cilantro looking fresh and bright.
And that's it! Serve up a hot bowl for yourself and your friends and enjoy.
Side note: This recipe makes a LOT of soup. If you're like me and you love lentils, that won't be a problem. Just pour your leftover room temperature soup into quart size freezer bags and place them in the freezer to reheat later for lunch on the go.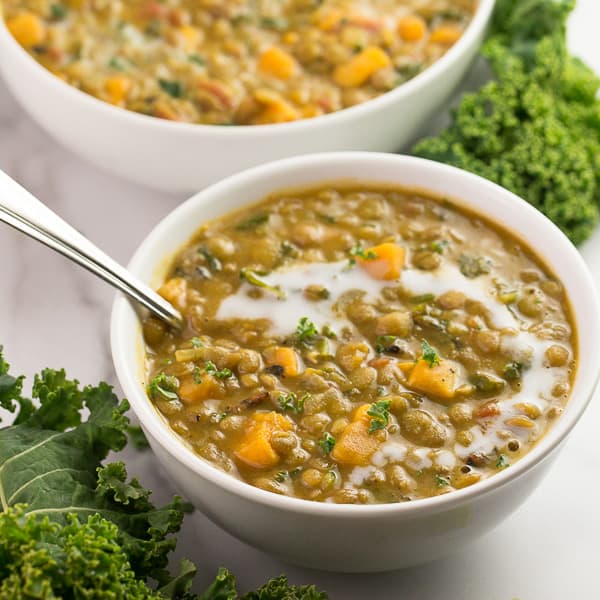 Print Recipe
Vegan Curried Lentil Soup
Vegan curried lentil soup with sweet and savory spices, juicy fire-roasted tomatoes, sweet potatoes, and kale.
Ingredients
1

tablespoon

extra virgin olive oil

or cooking oil of your choice

1

medium sweet potato

diced

1

medium onion

diced

3-4

cloves

garlic

crushed or minced

2

tablespoons

ground cumin

1 1/2

tablespoons

mild curry powder

2

teaspoon

salt

more to taste as needed

1/4

teaspoon

ground cinnamon

1/4

teaspoon

ground turmeric

1

pound

dry lentils

rinsed and drained (or 2 1/3 cups)

4

cups

vegetable broth

or vegan vegetable bouillon with water, according to package instructions

4

cups

water

14.5

ounces

fire-roasted diced tomatoes

(or 1 can)

1-2

tablespoons

maple syrup

1/4

cup

lemon juice

13.5

ounces

coconut milk

(or 1 can)

3

cups

baby kale

roughly chopped

1

bunch

fresh cilantro

chopped, divided
Instructions
In a large pot, heat oil for about 20 seconds. 

Add diced onion and sweet potato to oil and saute on medium-high heat for 5-8 minutes until sweet potato is slightly softened (although not fully cooked), and onions are relatively clear.

Add minced garlic, cumin, curry powder, salt, cinnamon, and turmeric to sautéed mixture, and continue to sauté for another 1-2 minutes.

Add lentils, vegetable broth, water, fire-roasted tomatoes, maple syrup, and lemon juice to sautéed mixture in pot, and stir together. 

Bring mixture to boil, then cover and simmer on medium heat for about 30 minutes, stirring every 5-8 minutes.

Stir in canned coconut milk.

Finally, add your baby kale and 1/2 bunch cilantro. Stir together and cook just until wilted–about 2-3 minutes.

Remove from heat, and garnish with remaining 1/2 bunch fresh cilantro. Serve warm.
Notes
This recipe makes a lot of soup. If you have leftovers, place them in quart size freezer bags, and freeze for up to 3 months. Reheat by partially thawing soup on the counter at room temperature, cutting open bag, and then heating soup in a pot on the stove, or by microwaving in a microwave safe dish.