One of my favorite springtime desserts has always been lemon cake. The poignant sour lemony flavor mixed with the sweetness of sugar just made me want to dance inside. I LOVE it. Maybe that's why, when we married almost ten years ago, my hubby and I chose a big lemon cake for our reception.
One of the best things about this cake? It uses four lemons. FOUR. Which means that you're in for a boat load of lemon-y goodness with every bite. While the instructions below may look a little long and daunting, I promise this won't take too much time (or effort) and the results will knock or socks off. Ready to make it?
How to Make Vegan Lemon Cake
Part 1: The Cake
To get started, you'll want to preheat your oven to 350 degrees Fahrenheit. Next, you'll want to find a big mixing bowl (or use the bowl from your stand mixer like I am). Measure and place flour, cornstarch, aluminum-free baking powder, salt, and turmeric in the bowl and gently whisk. The turmeric flavor isn't noticeable in the cake, but it gives the cake a gorgeous subtle yellow color while it bakes.
Now comes the lemons. Two of them. You'll need to grate the zest off of both lemons and add the zest to your flour mixture above.
Use a lemon juicer to get about 1/4 cup of juice out of those two lemons. Place juice in a separate bowl along with granulated sugar (or cane juice crystals), oil, non-dairy milk, applesauce, and vanilla. Whisk up these wet ingredients until the sugar starts to dissolve.
Add wet ingredients to the dry ones in your large mixing bowl. Use a whisk to thoroughly combine wet and dry ingredients, or, use a stand-up or hand mixer to mix all ingredients together for about 30 seconds or just until everything is well combined. You don't want to over-mix here, or you'll end up with a dense cake.
Choose a bundt pan that accommodate 10-15 cups of batter like this one (as an Amazon associate, I earn from qualifying purchases from this link).
Oil and flour your bundt pan. I use a combination oil + flour spray like this one to make oiling my cake pans easier.
Bake your cake at 350 degrees for 50-55 minutes.
Part 2: The Glaze
Now comes the best part. While your cake is in the oven, it's time to start making your glaze. Grate the zest off of two more lemons, and set the zest aside. Now, juice those lemons. You should get about 1/4 cup of juice or slightly more. (You'll use half of the juice for the glaze, and the other half for the frosting.)
Place two tablespoons of juice in a saucepan with two tablespoons of sugar, and bring it to a boil. Simmer for two to three minutes, then set aside.
When your cake is done, remove it from the oven. Allow it to cool in the bundt pan for about five minutes before turning your pan over on a platter or cooling rack.
Then, using a pastry brush, brush the glaze mixture all over the top of your cake. Then, let your cake continue cooling for about an hour.
Part 3: The Frosting
While your cake cools, it's time to get started on the frosting. This frosting is meant to be slightly runny so it drips down the sides of your cake a little. the tricky part is keeping it from getting so runny that it falls off the cake.
Place confectioners' sugar and remaining lemon juice (or about 2.5 tablespoons) in a small bowl and stir together until there are no lumps. If your frosting is just thick enough that you can see the tracks of your spoon in the frosting for several seconds after stirring it, you know it's ready. If it seems too runny, feel free to add a few more tablespoons of confectioners' sugar until you reach the right consistency.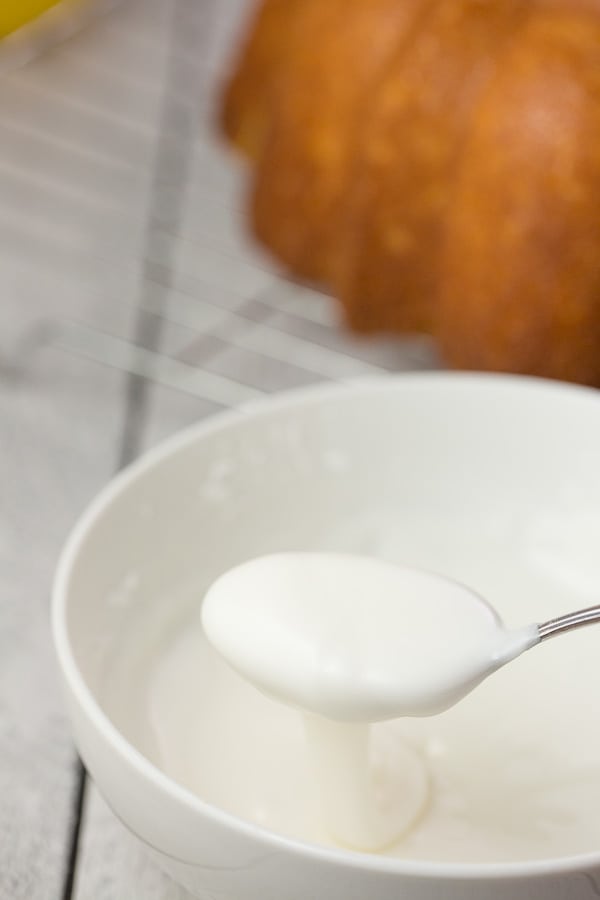 Once your cake has completely cooled (usually takes about an hour), drizzle your frosting over the cake. Top it with the remaining lemon zest to add an extra pop of flavor (and for added garnish).
And there you have it! You're well on your way to making the best vegan lemon cake around.
Where Should I Serve Lemon Cake?
Everywhere! No, but really…
Office parties or potlucks
Easter dinner
Mother's Day brunch
Birthday parties
What Goes With Lemon Cake?
Building a menu around lemon cake? Count me in! Here are some ideas: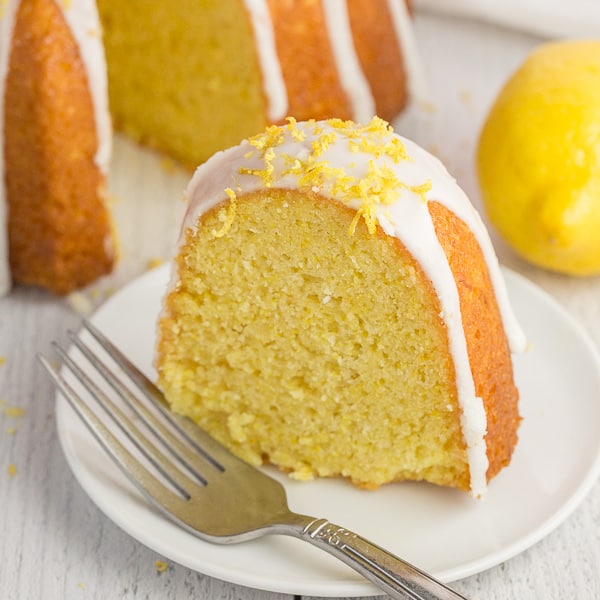 Print Recipe
Vegan Lemon Cake
The best vegan lemon bundt cake is moist, has rich lemon flavor, and is smothered in a sweet and tangy frosting.
Ingredients
For the Cake:
3 1/2

cups

unbleached all-purpose flour

1/4

cup

cornstarch

2 1/2

tablespoons

aluminum-free baking powder

3/4

teaspoon

salt

1/4

teaspoon

ground turmeric

3

tablespoons

lemon zest

(freshly grated)

1/4

cup

lemon juice

(freshly squeezed from approximately 2 lemons)

2

cups

granulated sugar

(or cane juice crystals)

2/3

cup

oil

(I used safflower, but canole or melted coconut oil would also work.)

1 2/3

cup

almond milk

2

tablespoons

applesauce

1

teaspoon

vanilla extract

1

teaspoon

lemon extract

(optional)
For the Glaze
2-3

tablespoons

lemon juice

(from 1 lemon)

3

tablespoons

granulated sugar

(or cane juice crystals)
For the Frosting:
1 1/4

cup

confectioners' sugar

+4-6 tablespoons as needed

2 1/2

tablespoons

lemon juice

(from 1 lemon)
Instructions
Preheat oven to 350 degrees Fahrenheit.

In a large mixing bowel, whisk together flour, cornstarch, baking powder, salt, turmeric, and lemon zest.

In a separate mixing bowl, whisk together lemon juice, granulated sugar, oil, almond milk, applesauce, vanilla, and lemon extract.

Pour wet ingredients into bowl of dry ingredients, and whisk (or use mixer) everything together until just combined.

Oil and flour a large bundt pan (needs to hold 10-15 cups of batter).

Pour batter into bundt pan and bake at 350 degrees Fahrenheit for 50-55 minutes, or until a toothpick comes out clean.

Once baked, remove cake from oven and allow to rest in bundt pan for about 5 minutes before turning pan over onto rack, plate, or platter to cool.
For the Glaze:
Place lemon juice (of 1 lemon) and granulated sugar in a saucepan, and bring to boil. Simmer for about 3 minutes. Remove from heat, and set aside.

When cake is on cooling rack (still warm), use pastry brush to brush glaze all over cake surface.
For the Frosting:
Place juice of 1 lemon (about 2.5 tablespoons) of lemon juice in a small bowl with confectioners' sugar. Add extra confectioners' sugar (a few tablespoons at a time) as needed until frosting is thick enough that you can see your spoon tracks for several seconds after stirring it.

Once cake is completely cooled (after about 1 hour), drizzle frosting on top of cake, letting it partially fall down the sides.

Garnish with remaining lemon zest, and serve!
Notes
This cake requires 4 lemons total: 2 lemons for the cake, and 1 lemon each for the glaze and frosting.
This cake keeps for 3-4 days at room temperature, if stored in an air-tight container, or if tightly covered with plastic wrap.
Nutrition
Calories:
340
kcal
|
Carbohydrates:
61
g
|
Protein:
3
g
|
Fat:
9
g
|
Sodium:
145
mg
|
Potassium:
224
mg
|
Fiber:
1
g
|
Sugar:
36
g
|
Vitamin C:
4.5
mg
|
Calcium:
118
mg
|
Iron:
1.4
mg