Late spring is my favorite time of year for a lot of reasons–but especially because I get to enjoy time outside with my family. And, because time outside = food outside, it's time to start exploring some vegan summer picnic foods! First up is this quick and easy potato salad that makes the perfect vegan side dish to take to a cookout or picnic with friends.
The main ingredient in this potato salad that is different from traditional non-vegan potato salads is the mayonnaise. Non-vegan mayonnaise contains eggs, so for this recipe, we'll use eggless/vegan mayonnaise. Any store-bought vegan mayonnaise will work (I used Follow Your Heart Veganaise for mine), or you can make your own by following this homemade vegan mayonnaise recipe. If you're looking for an oil-free vegan mayonnaise recipe, you might try this one.
To make this easy vegan potato salad, you'll need some potatoes (duh). I usually buy a 4 pound bag of red potatoes (my fav!), and use half of the potatoes for this recipe. However, you could use any type of white or yellow potato for this recipe.
While I like celery, carrots, black olives, green onions, and parsley in my potato salad, you can totally use whatever vegetables you like. If you omit one or more of the veggies, just be prepared to adjust the amount of dressing that you add to your salad at the end.

How to Make Vegan Potato Salad
Okay, let's get this party started!
Bring 8 cups + 1/2 tablespoon salt to boil. While that's heating up, wash 2 pounds of red potatoes, and cut them into 3/4 inch pieces. Some chefs like to boil their potatoes whole before dicing them, because it can make peeling and dicing the potatoes easier. For this recipe, since I'm leaving the skins on the potatoes, I'm going to wash and dice the potatoes before boiling.
Cook your diced potatoes for about 12 minutes (2 minutes for water to return to boiling + 10 minutes of cooking time). Once potatoes are fork tender, but skins aren't quite falling off, drain diced and cooked potatoes in a colander and briefly rinse with some cold water. Now you'll set your potatoes aside to cool to room temperature.
Meanwhile, chop your veggies: 2 ribs of celery, 1 large carrot, 1/2 cup sliced black olives, 1/4 cup diced green onion, and 2 tablespoons of fresh minced parsley.
Once your potatoes have cooled to room temperature (you can speed up this process by putting them int he freezer for a few minutes), you can assemble the rest of your salad. In a large bowl, place your cooked potatoes and chopped veggies. Follow the instructions below for your dressing.
For the Dressing
To make your dressing, place your remaining ingredients in a small bowl: mayonnaise, sweet pickle relish, lemon juice, sugar, garlic, turmeric, and black salt. Pour the dressing (as much or as little of it as you like–I use all or most of it) over your potatoes and veggies. Gently fold everything together, being careful not to mash the potatoes. Sprinkle with a little paprika and parsley to garnish, and chill for 1 hour before serving.
What goes with vegan potato salad?
Now that you have a quick and easy vegan potato salad recipe in your back pocket, you'll want to think about other great vegan dishes to add to your summer picnic menu. Here are some ideas to get you started.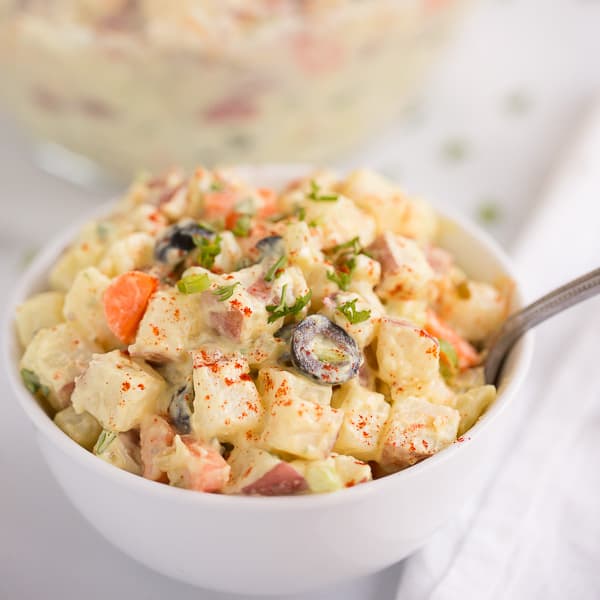 Print Recipe
Vegan Potato Salad
Red potatoes are boiled until soft and smothered in a vegan mayo based sauce to make the perfect picnic side dish.
Ingredients
8

cups

water

(+ 1/2 tablespoon salt to boil potatoes)

2

pounds

red potatoes

(about 5 3/4 cup chopped in 3/4 in. pieces)

2/3

cup

diced celery

(about 2 stalks)

1/2

cup

diced carrot

(about 1 large carrot)

1/3

cup

sweet pickle relish

1/2

cup

sliced black olives

1/4

cup

diced green onion

(or red onion for a slightly stronger flavor)

2

tablespoons

fresh parsley
For the dressing:
1/2

cup

vegan mayonnaise

(+2 tablespoons if needed for moisture)

1/2

tablespoon

lemon juice

1

teaspoon

granulated sugar

1/4

teaspoon

ground turmeric

1

teaspoon

yellow mustard

(optional)

1/4

teaspoon

garlic powder

1/2

teaspoon

black salt

(plus more to taste)(also known as Kala Namak, can use regular table salt instead)
Instructions
Scrub 2 pounds of red potatoes, and chop into 3/4 inch pieces. I like to leave the skins on my red potatoes, but you can also peel them. Once chopped, you should have a little less than 6 cups of potatoes.

Bring 8 cups of water (+ 1/2 tablespoon salt) to boil in a large pot.

Place chopped potatoes in pot of boiling water, and cook on medium to medium/high heat for about 12 minutes (or 10 minutes once water has returned to boil), or until potatoes are fork tender and their skins haven't quite fallen off.

Once cooked, place potatoes in colander to drain over the sink, and briefly rinse with cold water. Allow potatoes to cool until they reach room temperature. (Hint: You can speed up the process by putting them in the freezer for a few minutes, or allowing a few ice cubes to melt over them into the colander.)

Place potatoes in a mixing bowl with diced veggies: celery, carrot, pickle relish, olives, green onion, and set aside.

In a separate bowl, mix dressing ingredients together. Pour dressing over potato salad. I like to use all of the dressing for this recipe, but feel free to leave some out if you don't like a super moist potato salad.

Gently fold dressing into potatoes and veggies, being careful not to mash the soft potatoes.

Sprinkle with paprika and extra parsley to garnish and chill for 30-60 minutes before serving.
Notes
(As an Amazon Associate I earn from qualifying purchases associated with links on this page, also known as affiliate links.)
Nutrition
Calories:
271
kcal
|
Carbohydrates:
33
g
|
Protein:
3
g
|
Fat:
14
g
|
Saturated Fat:
1
g
|
Sodium:
657
mg
|
Potassium:
770
mg
|
Fiber:
3
g
|
Sugar:
7
g
|
Vitamin A:
2205
IU
|
Vitamin C:
17
mg
|
Calcium:
44
mg
|
Iron:
1.5
mg