So, I took a break last week–from blogging, that is. This pregnancy has progressed to the point where I feel huge, food doesn't always look good anymore, and all I want is a clean house. I'm totally not complaining, because I was beginning to eat myself out of house and home anyway. PLUS, a little extra motivation to clean is never a bad thing, right?
I can barely see the outline of my toes now. She's getting to be a big baby girl at 31 weeks.
Ahem! As I was saying…I've been doing more cleaning than cooking this week, which means that I didn't post any weekly lunch ideas last Saturday night or any new recipes. Woops.
Instead, I cleaned out my refrigerator, organized my bathroom, and packed up some of little M's winter clothes.
Here is my disastrously disgusting fridge. BEFORE. I know what you're thinking. "Ewwwwwww!!" Yep, me too.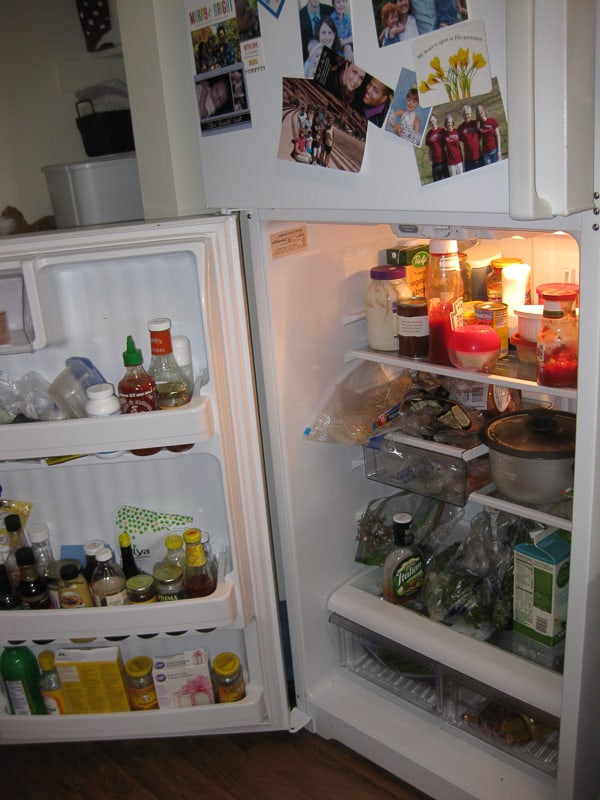 And here it is after an hour or two of scrubbing and organizing and tossing. You'll have to admit that it looks way way way better. Yah?
To change the subject completely, have I ever told you that little M is an extremely picky eater? Well now you know.
Just the other day I made a creamy potato/corn soup, just for her. I was sure she would eat it.
Nope.
I managed to shove a few pieces of potatoes into her mouth, but if she ever found a corn kernel, it would most assuredly be returned to me in a half-chewed state. Forgive me if you just lost your appetite. Seriously, though, what toddler doesn't like organic corn?? And potatoes?? In a creamy soup with blended-up cashews? I'm at my whit's end.
And then, there were oatmeal waffles…
They were light, crispy on the edges, moist, and delicious. Little M won't stop eating them–even without any peanut butter or syrup on them (SCORE!).
Okay, so Little M isn't getting her green leafies in through these waffles, but hey, they've got oatmeal in them. Who can argue that oatmeal isn't pretty good for you? I'm going to say that these waffles are healthy, easy, and apparently addictive (at least to my Little M).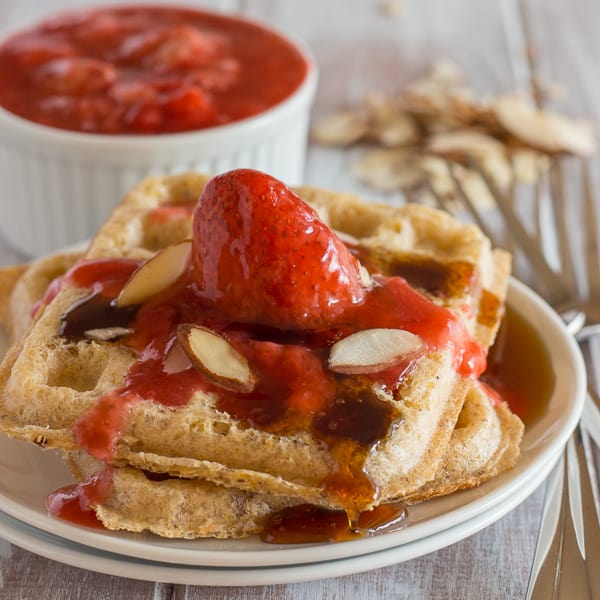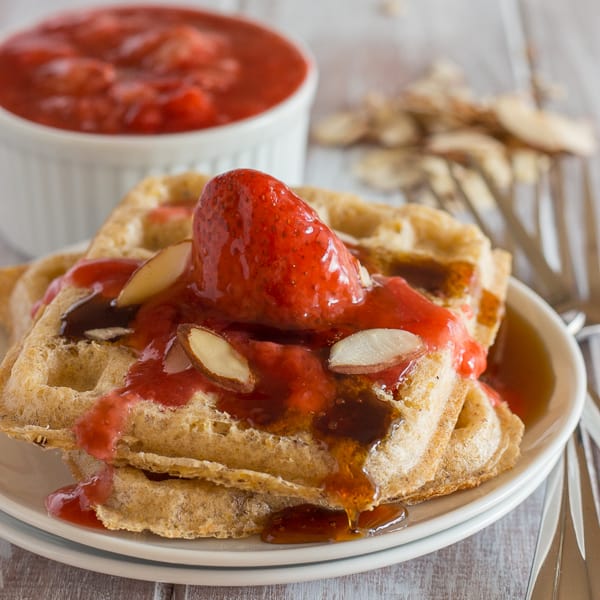 Okay, ready for the recipe?
It comes as an adaptation from my beautiful friend Rebecca and her family–who first introduced me to oatmeal/cornmeal waffles while I was in early pregnancy with Baby #2. Nearly everything made me nauseated–except these waffles. I devoured them, and, pregnant or not, I think you will too.
Print Recipe
Easy Vegan Oatmeal Waffles
Easy Vegan Oatmeal Waffles
Ingredients
6

cups

quick oats

Use gluten-free oats, if needed

1/4

cup

raw cashews

soaked in warm water, if you don't have a high-speed blender

1

cup

cornmeal

2

teaspoons

salt

2

tablespoons

flax meal

2

tablespoons

sunflower oil

or oil of your choice, optional

10

cups

very hot water

divided
Instructions
In a clean/dry blender, blend dry oats up into a coarse flour. You may need to divide oats into 2-3 batches. Place coarse oat flour into large mixing bowl.

Preheat waffle iron.

Blend raw cashews up with 2 cups water. Pour cashew mixture, along with cornmeal, salt, flax, and oil into your large mixing bowl.

Now add your remaining 8 cups of water. You may start by adding only 6 cups, and add 2 more cups later as your batter sits and thickens. Your batter will seem WAY to runny and watery initially, but I promise as it sits in the bowl, it will thicken.

Carefully pour it onto your waffle iron, and you will be amazed by how quickly it thickens up and becomes crispy. You don't want this batter to be as thick as traditional waffle batter, as your waffles will turn out too dense. As the oatmeal flour reacts with the hot water, your batter will gradually thicken.


Cook waffles according to instructions on your waffle iron, or until the tops are golden and crispy. This may take more time than your waffle-iron timer indicates. My waffle-iron required about 10 minutes for the waffles to cook all the way through.
Notes
This recipe is designed for traditional waffle irons, not Belgian waffle irons. I've not tried this recipe on my Belgian iron, but I'm guessing your waffles may turn out really goopy on the inside, or at least need to be cooked much longer than usual.
Nutrition
Calories:
481
kcal
|
Carbohydrates:
76
g
|
Protein:
14
g
|
Fat:
15
g
|
Saturated Fat:
2
g
|
Sodium:
779
mg
|
Potassium:
426
mg
|
Fiber:
10
g
|
Sugar:
1
g
|
Calcium:
46
mg
|
Iron:
5
mg
"Better a little with the fear of the Lord than great wealth with turmoil.
"Better a meal of vegetables where there is love than a fattened calf with hatred."
                      Proverbs 15: 16-17 (New International Version)