Happy Earth Day! Happy Veg Week! In celebration of enjoying and protecting God's beautiful creation (and my dad's birthday, YAY!), I am most excited to announce a cookbook giveaway.
The publishers at Avery have been gracious enough to offer one of you your very own copy of the brand spankin' new Oh She Glows cookbook by Angela Liddon (affiliate link). If you're not familiar with Angela and Oh She glows (Angela's vegan food blog), I encourage you to head on over right now and check it out. Oh She Glows has become one of the most popular vegan food blogs on the web–and not by accident. Because Angela has fought (and won) a battle with an eating disorder and an overall unhealthy relationship with food, she knows just how important simple, healthy, and flavorful meals are to vegans and non-vegans alike. For that reason, Angela focuses on using fascinating flavors and dramatic presentation to showcase the delicious simplicity of the plant-based plate.
For a great example of Angela's unique approach to vegan cooking, check out this recipe for Glowing Green "Pasta" Primavera or just scroll down to get the recipe for Quick and Easy Chana Masala–straight out of The Oh She Glows Cookbook (affiliate link).
And speaking of chana masala–this stuff is insanely delicious–like right out of an Indian restaurant delicious. (And I've traveled to India, so I know what awesome Indian food tastes like.)
I left out the serrano pepper in this recipe to avoid too much heat for kids, but it was still well-spiced and wonderful. Even my 23-month-old ate a few bites of this stuff (that's saying ALOT, people). Best of all, the entire recipe only took a few minutes to throw together–perfect for a weekday lunch or dinner.
As soon as I read the rave reviews of The Oh She Glows Cookbook, I went straight to Amazon (affiliate link) and ordered myself a copy, and I'm so glad I did. With stunning photography corresponding with nearly every recipe and simple, easy-to-read instructions, I think even the most amateur cook (like me!) would have no trouble making any one of these recipes.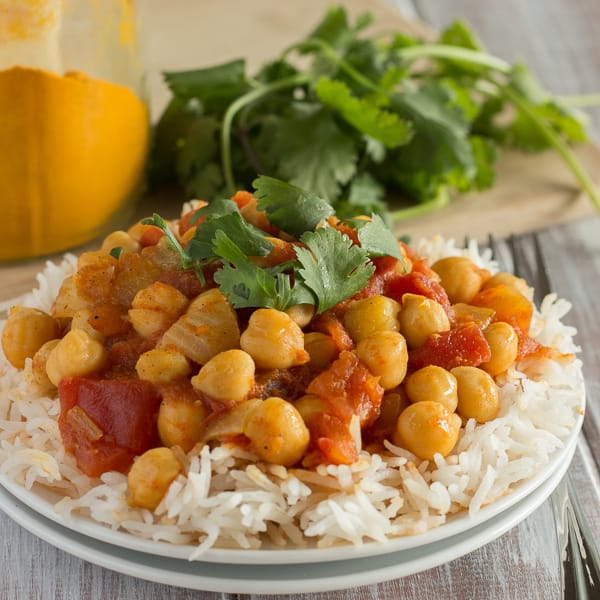 To enter this cookbook giveaway, simply visit the Oh She Glows vegan food blog, and let me know, in the comments below, which recipe(s) you are just itching to make and why. Giveaway ends at midnight on Sunday night (April 27th), after which a winner will be chosen at random.
Official Giveaway Rules:
1. No purchase necessary. Simply follow the instructions above to enter.
2. Giveaway begins at midnight Tuesday night (April 22) and ends at midnight (CST) Sunday night (April 27th).
3. Must be 18 years old or older to enter and live in the United States (and in a state that allows giveaways of this type).
4. One entry per person.
5. Winner will be chosen at random–utilizing random.com, and will receive an e-mail from me requesting his/her mailing address. That name and address will then be supplied to Avery, who will be awarding the prize of approximately $15 – $25 value.
Quick and Easy Chana Masala from The Oh She Glows Cookbook
Spiced chickpeas and tomatoes served over hot basmati rice
Ingredients
1 tablespoon (15 mL) coconut oil or olive oil
1½ teaspoons (7 mL) cumin seeds
1 yellow onion, diced
1 tablespoon (15 mL) minced fresh garlic
1 tablespoon (15 mL) minced peeled fresh ginger
1 green serrano chile pepper, seeded, if preferred, and minced
1½ teaspoons (7 mL) garam masala
1½ teaspoons (7 mL) ground coriander
½ teaspoon (2 mL) ground turmeric
¾ teaspoon (4 mL) fine-grain sea salt, plus more as needed
¼ teaspoon (1 mL) cayenne pepper (optional)
1 (28-ounce/793-g) can whole peeled or diced tomatoes, with their juices
1 (28-ounce/793-g) can chickpeas, or 3 cups (750 mL) cooked chickpeas, drained and rinsed
1 cup (250 mL) dry/uncooked basmati rice, for serving
Fresh lemon juice, for serving
Fresh cilantro, chopped, for serving
Instructions
In a large wok or saucepan, heat the oil over medium heat. When a drop of water sizzles upon hitting the pan, reduce the heat to medium-low and add the cumin seeds. Stir and toast the seeds for a minute or two until golden and fragrant, watching carefully to avoid burning.
Raise the heat to medium and stir in the onion, garlic, ginger, and serrano. Cook for a few minutes or so, then stir in the garam masala, coriander, turmeric, salt, and cayenne (if using), and cook for 2 minutes more.
Add the whole peeled tomatoes and their juices and break them apart with a wooden spoon (skip if using diced tomatoes). You can leave some chunks of tomato for texture.
Raise the heat to medium-high and add the chickpeas. Bring the mixture to a simmer and cook for 10 minutes or longer to allow the flavors to develop.
Serve over cooked basmati rice, if desired, and garnish with a squeeze of fresh lemon juice and some chopped cilantro just before serving.
Notes
Tips: To thicken the tomato gravy, place a ladle of the curry in a mini processor and process until almost smooth. Stir this back into the curry to thicken.
For a grain-free option, serve the chana masala atop a baked potato.

Reprinted by arrangement with AVERY, a member of Penguin Group (USA) LLC, A Penguin Random House Company. Copyright © GLO BAKERY CORPORATION, 2014.
This recipe reprinted by arrangement with AVERY, a member of Penguin Group (USA) LLC, A Penguin Random House Company. Copyright © GLO BAKERY CORPORATION, 2014.