Note: Back when I first started this blog, I made a batch of these to share with you. Wanna see that post? See how my food photography has improved (not perfect, but better!) :)
Once upon a time, when I was a youngin' (a.k.a. under 18), my family job was to make dessert Friday afternoon in preparation for Sabbath lunch (usually a potluck with friends). And, on the days I was smartest, I made theeeeese.
They really are the smartest treats around. When I say smartest, I mean yummiest, easiest, and effiecient-est. Sometimes ya just need to wow your guests without spending 5 hours slaving away in the kitchen. For real.
But first, let's address the elephant in the room.
Carob. I can hear you asking right now. What's carob? Can't I just use chocolate?
Carob is this super delicious bean that is naturally slightly sweet, so it doesn't require as much refined sugar, like chocolate does. It definitely has a different flavor from chocolate's, but it is still very tasty, when used correctly.
There are a few other reasons that I try to use carob, rather than chocolate, but I'm not going to go into that here. If you want, you can read this post from a few months ago, where I go into a little more detail about chocolate vs. carob.
But yes, you can totally use chocolate in this recipe, and I'm sure it will still be delicious.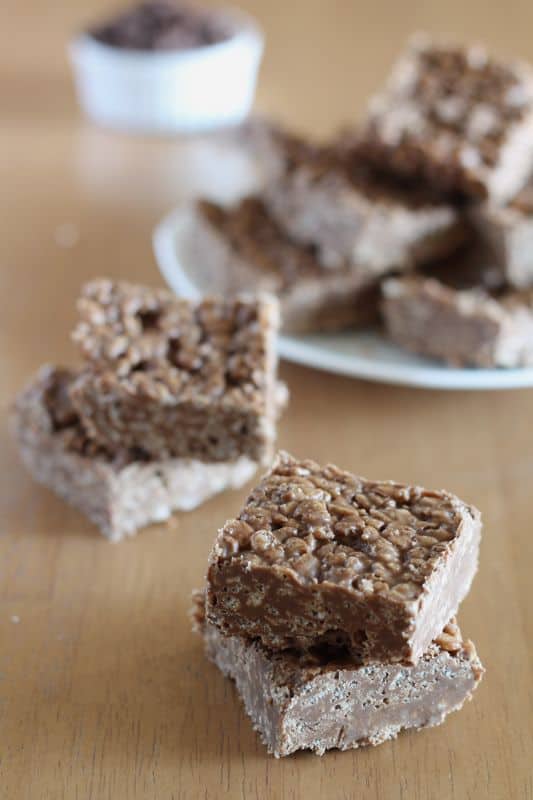 So, there you go, people. Sweet, crunchy, salty, peanut-buttery, desserty amazingness–in just 5 minutes of your time and a short ride through the fridge (or freezer)
Let me know how you like it!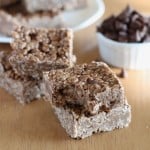 Print Recipe
Vegan Carob Peanut Butter Rice Krispy Treats
Equipment
microwave-safe bowl

9 inch x 9 inch square dish
Ingredients
1/2

cup

natural smooth peanut butter

2

tablespoons

confectioner's sugar

(optional)

3

cups

rice krispies

1

pinch

salt
Instructions
In a microwave-safe bowl, combine peanut butter and carob chips. (Making sure the carob chips are coated in peanut butter helps keep them from scorching in the microwave.) Microwave on high for 1 minute, stir, then microwave again for 30 seconds. Sitr. Carob chips should be pretty much completely melted. If you still see alot of chunks, microwave again for another 10-20 seconds.

Combine confectioner's sugar and a pinch of salt with your carob/PB mixture.

Add Rice krispies and stir until rice krispies are completely coated.

Press mixture into a square 9 X 9 baking dish (no need to oil the pan, as your PB and carob chips contain enough oil on their own), and place in the refrigerator for 30-60 minutes, until treats are slightly chilled, and solid.

Cut into squares and serve slightly chiled or at room temperature.
Notes
This recipe is designed for vegan sugar-sweetened carob chips. However, it would definitely work with vegan semi-sweet chocolate chips as well (you just might have to adjust the sweetener a little bit).
**This recipe may contain affiliate links. As an Amazon affiliate, I earn from qualifying purchases.
Nutrition
Calories:
169
kcal
|
Carbohydrates:
20
g
|
Protein:
4
g
|
Fat:
9
g
|
Saturated Fat:
5
g
|
Cholesterol:
1
mg
|
Sodium:
114
mg
|
Potassium:
176
mg
|
Fiber:
1
g
|
Sugar:
8
g
|
Vitamin A:
466
IU
|
Vitamin C:
5
mg
|
Calcium:
49
mg
|
Iron:
3
mg