It's time for a reality check. The kind that you may not want to hear.
Earlier today, I was reading a women's fitness blog. You know, the kind where beautifully lean and perfectly-fit-even-though-I've-birthed-10-kids (exaggeration, but you get the point) women share their workouts and recipes with the world wide web. Don't get me wrong. I LOOOOoove those blogs. They inspire me to work harder and eat better.
But then, sometimes I just have to be honest with myself and with all of you.
I'm not perfect. And, sadly, I don't eat kale and quinoa every day (as much as I love kale and quinoa). I don't even eat fresh vegetables every single day (even though I really do try). Sometimes, when I wake up in the morning, all I want is this:
Yup. I'm trying to be okay with the fact that I can still appreciate the person God made me to be and love life while still having a treat every once in awhile (okay, a little more often than that). (And yes, I'm working on being a little more temperate too.)
From the moment I first saw the idea of a cinnamon roll pancake on Pinterest from Recipe Girl, I've been smitten. And then, I probably took about a year or two just to figure out that I could make it vegan. And then, I just never got around to trying.
Until now.
Silly me. I still can't believe I've been missing out on light, fluffy, spiced, sweet, creamy cinnamon roll pancakes until now.
Go ahead. Take a bite.
In the middle of this photoshoot, I couldn't just stare at breakfast anymore and took a stab at my background stack.
A few moments later, when my mind caught up with my mouth, I'd already eaten half of it.
Woops.
Guess I won't be starting a fitness blog anytime soon.
And just in case you're like me and need a little encouragement to keep yourself from eating cinnamon roll pancakes for every meal, here's a little food for your thoughts from my favorite Book.
"Know ye not that they which run in a race run all, but one receiveth the prize? So run, that ye may obtain. And every man that striveth for the mastery is temperate in all things. Now they do it to obtain a corruptible crown; but we an incorruptible. I therefore so run, not as uncertainly; so fight I, not as one that beateth the air: But I keep under my body, and bring it into subjection: lest that by any means, when I have preached to others, I myself should be a castaway." 1 Corinthians 9: 24-27 (King James Version)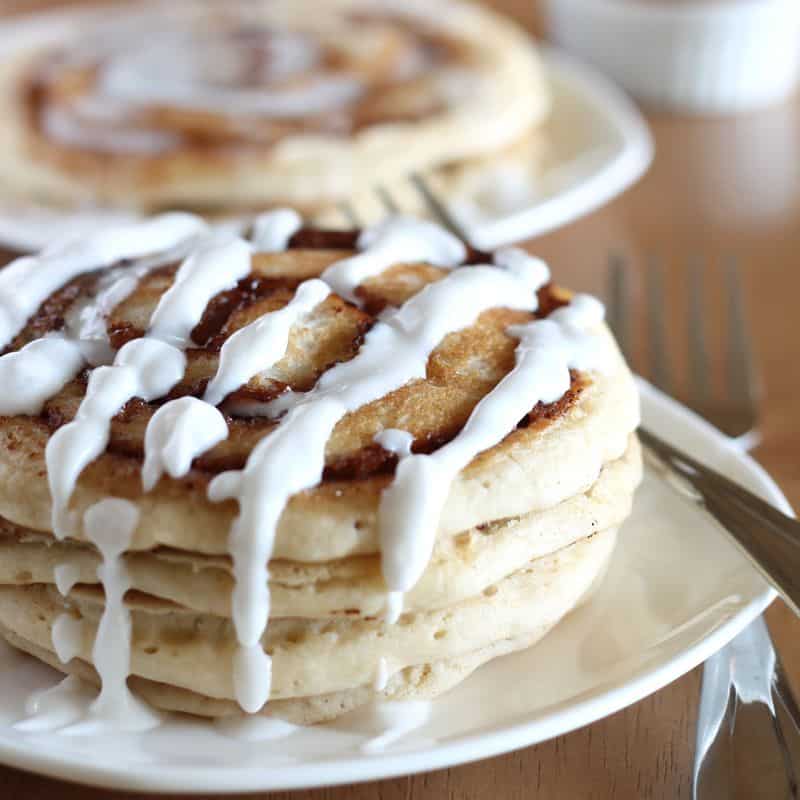 Print Recipe
Vegan Cinnamon Roll Pancakes
Ingredients
For the Cinnamon Filling:
1/4

cup

vegan butter

5

tablespoons

brown sugar

3/4

tablespoon

cinnamon

1

tablespoon

all purpose flour
For the Pancakes:
1 1/2

cup

flour

3

tablespoons

evaporated cane juice crystals or granulated sugar

1

tablespoon

cornstarch

1

tablespoon

aluminum-free baking powder

(I used Rumford brand.)

3/4

teaspoons

salt

3

tablespoons

melted vegan butter

or your preferred oil

1 1/2

cup

almond milk
Instructions
For the Cinnamon Filling:
Place all ingredients in a zip-loc sandwich bag and seal closed. Knead ingredients together with your hands until there are no big lumps or chunks of anything.

Place bag in your refrigerator for at least 20 minutes to allow mixture to firm up a bit. The consistency should be similar to that of toothpaste.

Later, when you are ready to draw swirls in your pancakes, cut a 1/3 inch wide hole in one of the bottom corners of your sandwich bag.
For the Pancakes:
While your cinnamon filling is firming up in the fridge, you can get started with your pancake batter. In a mixing bowl, gently combine the dry pancake ingredients: flour, cane juice crystals, cornstarch, baking powder, and salt.

Once the dry ingredients are well-combined, you can add the the wet ingredients to the same bowl: melted vegan butter and almond milk. Whisk all ingredients well to combine.

Place a nonstick pan on the stove on medium heat (you may need to turn down to medium-low eventually).

Pour 1/4 cup of batter in heated nonstick pan. You don't need to use cooking spray if you're using a good nonstick pan.

Now, remove your sandwich bag of filling from the fridge, and make sure you have snipped a 1/3 inch hole in one of the lower corners.

Once bubbles are beginning to form on the outer edges of the pancake (should take less than 30 seconds) gently squeeze your sandwich bag in a circular motion around your pancake to form a swirl. Try not to get too close to the edges of the pancake.

When bubbles have formed towards the center of your pancake (after 1-2 minutes), flip your pancake quickly in one continuous motion.

When pancake has cooked on the other side for another 1-3 minutes, remove it from the pan, and wipe your pan clean before starting your next pancake.

Serve pancakes warm with all your favorite toppings.
Notes
*This post may contain affiliate links. As an Amazon associate, I earn from qualifying purchases.
Nutrition
Calories:
145
kcal
|
Carbohydrates:
24
g
|
Protein:
3
g
|
Fat:
4
g
|
Saturated Fat:
1
g
|
Sodium:
315
mg
|
Potassium:
177
mg
|
Fiber:
1
g
|
Sugar:
5
g
|
Vitamin A:
200
IU
|
Calcium:
125
mg
|
Iron:
1
mg