Today in the frigid north, we're making soup. Vegan creamy wild rice soup with mushrooms, kale, and sweet potatoes. I know it's officially spring. But in the far north, "spring" is still a figment of the imagination. There's plenty of snow on the ground (in fact it's snowing as I speak), and frankly, we're all tired of it. Winter has long overstayed it's welcome, and we're all getting a bit of cabin fever.
Thankfully snowy, chilly days aren't all bad–at least not when you have hot, savory, sweet potatoey soup to slurp. And that's exactly what we've been doing around here–eating soup: Tom ka tofu soup, curried lentil soup, creamy potato soup, tomato soup, vegetable soup, and this vegan creamy mushroom and sweet potato wild rice soup. Of course I threw some kale and parsley in for good measure too, because, why not??
I don't know what it is about wild rice that pulls on my heart strings, but seriously. It's the best. AND, it's gluten-FREE (obvs). So you can imagine my frustration at the fact that most of our local grocery stores here in Maine do not carry wild rice or, if they do carry it, charge you an arm and a leg for a tiny bag of it. This is when I thank God for Amazon Prime–so please, if you can't find wild rice for a decent price, don't give up on me. Order it online and have it delivered to your doorstep.
And now for the soup.
(FYI: This part contains affiliate links for some products that I use and love.)
All you have to do is saute your veggies in a large, thick bottomed pot. I used my new Dutch oven . Then, add the wild rice and water (or veggie stock), and simmer. And simmer. And simmer some more–unless of course you have an instant pot, then by all means, cook your wild rice and veggies in the instant pot.
That's the only downside of cooking this soup in a Dutch oven–it's going to take more than just 20 minutes.
After everything has cooked until it's nice and tender, you're going to make your cashew cream by whizzing up raw cashews and water in the blender. For this part, you're going to need a high speed blender like a Vitamix or Blendtec, or, you're going to need to have soaked some cashews in water for several hours before making your cashew cream. Trust me on this one. If you don't have a high speed blender, and you don't soak your cashews, you are likely to end up with gritty soup, which is just heartbreaking. So, soak your cashews overnight if you don't have a high speed blender, and you'll be in good shape.
Lastly, you're just going to salt to taste, sprinkle with fresh parsley, and enjoy. And trust me when I say enjoy, because this soup's a real winner.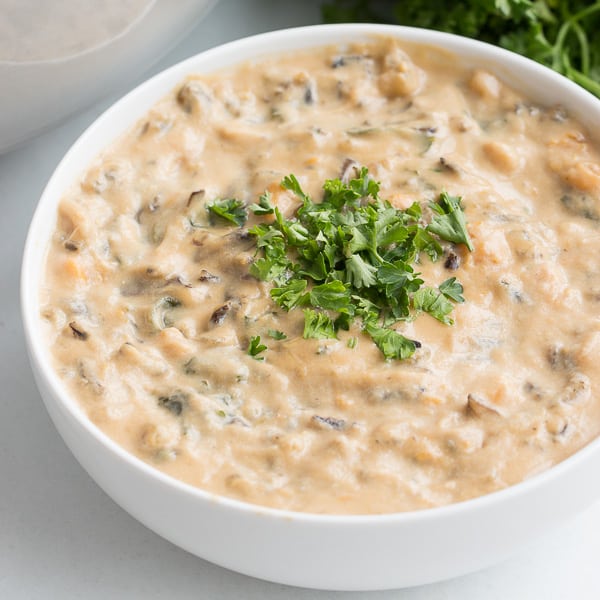 Print Recipe
Vegan Creamy Wild Rice Soup
Comforting vegan creamy wild rice soup with mushrooms, sweet potatoes, and kale.
Ingredients
1

tablespoon

coconut oil

1

medium onion

2

stalks celery

chopped

8

ounces

Shiitake mushrooms

1

clove

garlic

crushed

1/3

cup

wild rice

uncooked

1

tablespoon

vegetable bouillon powder + 6 cups water

or 6 cups vegetable broth

1

medium sweet potato

chopped

2

cups

baby kale

roughly chopped

3/4

cup

raw cashews + 2 1/2 cups water

1

teaspoon

salt

or to taste, depending on sodium content of your vegetable bouillon or broth
Instructions
Heat coconut oil in a large thick-bottomed pot (or Dutch oven) on range at medium-high heat.

Once coconut oil is melted, saute onion, celery, mushrooms, and garlic for about 5 minutes, or until all vegetables are softened.

Add uncooked rice, vegetable bouillon and 6 cups of water (or 6 cups of vegetable stock/broth). Cover and simmer x 20 minutes.

Add chopped sweet potato to pot, stir, then cover again and simmer for 30 more minutes.

Add roughly chopped baby kale to pot.

Place raw cashews (or soaked raw cashews) into high speed blender with 2.5 cups water and blend until smooth.

Pour cashew cream into soup and stir. The soup will seem thin and runny at this point. Keep stirring and allow soup to simmer a few more minutes until soup thickens. Salt to taste, and serve hot.
Notes
If  soup is left standing for more than a few minutes before eating, it will thicken up significantly. If this happens, simply add an extra cup of hot water and a pinch of salt to your soup, stir, and enjoy.
Nutrition
Calories:
191
kcal
|
Carbohydrates:
22
g
|
Protein:
6
g
|
Fat:
9
g
|
Saturated Fat:
3
g
|
Sodium:
425
mg
|
Potassium:
468
mg
|
Fiber:
2
g
|
Sugar:
3
g
|
Vitamin A:
5305
IU
|
Vitamin C:
28.8
mg
|
Calcium:
52
mg
|
Iron:
1.9
mg