It's time for something not-so-healthy, but vegan, of course.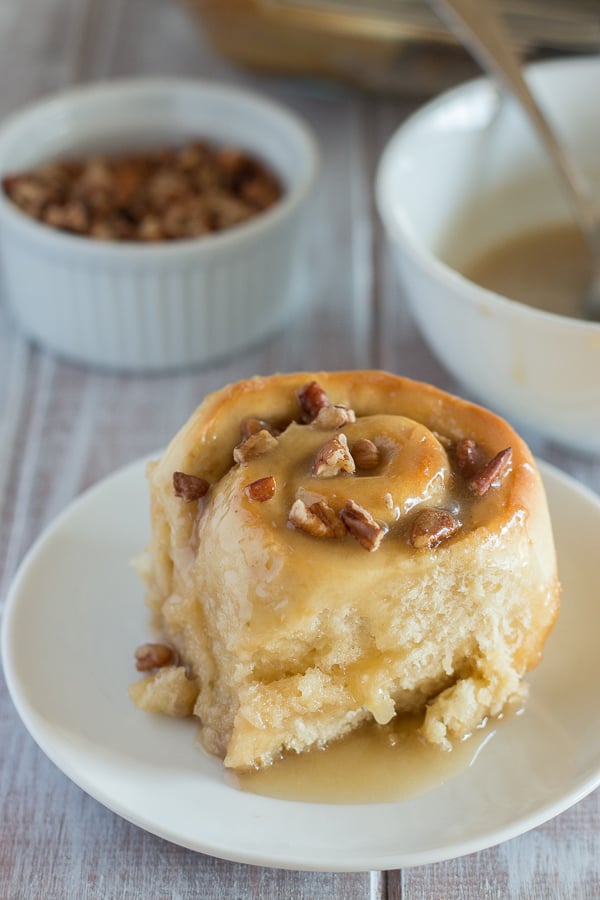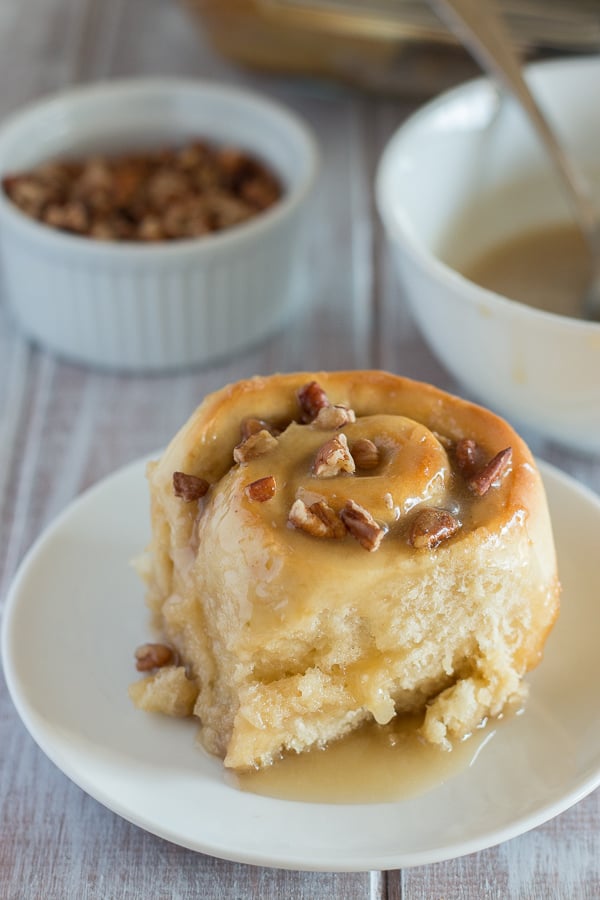 Woops. I'm sorry. Just showing you that picture probably just ruined your diet plans for the week–at least it did for me. Only I'm not on a diet–yet–because I'm pregnant. :)
I just found out today that at almost 28 weeks, I've already gained all the bare essentials of weight gain that I need for this entire pregnancy. I'm ahead of the game, you know. Just knowing that I'm "ahead" in anything should make me ecstatic, right?
Okay, so not really. But, for some horrible reason, knowing that my pregnancy weight gain could (should?) slow down just a tad doesn't deter me from making and eating a few of these bad boys. It's comfort food, ya know?
And, with Jonathan away this past week on a special pediatric rotation, I needed some comforting. If you're pregnant and stay home all day with toddler, you know what I mean. I needed a break.
And, for some reason, stuffing this soft, rich, fluffy, drenched-in-coconut-caramel-sauce piece of wonderful into my mouth was all the break I needed.
I'm going to blame all my cravings (this time) on Cobi from Veggietorials. If you've never watched one of Cobi's Youtube Veggietorials, you really ought to check 'em out and subscribe to her channel. I love Cobi's video for Vegan Sticky Buns, which is what inspired the sticky coconut "caramel" sauce portion of this recipe.
The secret to the sticky sweetness of this recipe is in the coconut sauce that is poured along the bottom of the pan before you put your doughy rolls in your baking dish to rise. I should have taken pictures step-by-step to show you, but I didn't. Here they are just before going into the oven.
And then, when they come out of the oven, you can drizzle more sticky coconut glaze on top to make them even more stickily sweet and delicious.
So there you have it, folks. If you're not craving a sticky bun right now, you are clearly not human. Orrr…you are just randomly craving vegetables, like I do sometimes, albeit rarely. (Hello, pregnancy.)
I hope you each are having a fantabulous week!
"O taste and see that the LORD is good: blessed is the man that trusteth in him." Psalm 34:8 (King James Version)
Print Recipe
Vegan Maple Pecan Sticky Buns
Simple and delicious vegan maple pecan sticky buns
Ingredients
4

tablespoons

melted or softened vegan margarine

or mild oil of your choice

3/4

cup

+ 2 tablespoons warm soy milk

or almond milk, or other non-dairy milk

1/4

cup

granulated cane sugar

2

tablespoons

cornstarch

2 1/4

teaspoons

active dry yeast

or one packet

1

teaspoon

vanilla extract

1/2

teaspoon

salt

2 3/4

cup

unbleached all purpose flour

For the Filling:

1/4

cup

applesauce

2

tablespoons

vegan margarine

melted

1/2

cup

finely chopped pecans

1/2

cup

brown sugar

lightly packed

For the Sticky Sauce:

2/3

cup

coconut milk

full fat

1

tablespoon

cornstarch

3

tablespoons

maple syrup

1 to 1 1/2

cup

powdered sugar

optional
Instructions
In a large bowl, whisk together your melted vegan margarine, warm soy milk, cane sugar, cornstarch, yeast, vanilla, and salt. Test your margarine/soymilk mixture with your finger before adding the yeast, to make sure it is only lukewarm, and not too hot, which will kill your yeast.

Let your yeast mixture sit for just a few minutes, until you see a few new bubbles forming. If you see absolutely no change in the look/texture of your yeast mixture, you may want to start over with either new yeast or with soymilk/margarine that isn't as warm.

Add flour to your yeast mixture and knead together just until a soft, slightly sticky dough forms. Based on the brand of flour you're using, you may need to add an extra tablespoon of water or flour to adjust the consistency of your dough until it is both soft and slightly sticks to your fingers.

Cover bowl/dough with some plastic wrap and place somewhere warm to rise for about 45 minutes. I turn my oven on for just a minute or two until it is warm inside, then place the entire bowl in the oven. If you use this method, don't forget to turn your oven off after 1 minute.

While dough rises, you can assemble your filling, by mixing the melted margarine and applesauce together in a small bowl and by setting out your chopped pecans and brown sugar.

To assemble your sticky sauce, simply whisk together your coconut milk, cornstarch, and maple syrup in a small bowl. Pour about half of this mixture into the bottom of an oiled 9 X 13 in. baking dish. Whisk your powdered sugar into the other half to be used as a glaze for the tops of the buns.

When your dough has finished rising (and has roughly doubled in size), roll it out on a lightly floured surface into a 12 in. X 20 in. rectangle. Brush the surface with the applesauce/margarine mixture, then sprinkle on the brown sugar and pecans.

Roll the dough lengthwise to form a big hot dog shaped specimen. Slice the roll into 12 equal pieces. Place pieces cut-side up into your oiled/sauced baking dish.

Now, place the entire baking dish (uncovered) back into its warm place to rise for another 30 to 40 minutes.

Preheat oven to 350 degrees Fahrenheit.

Bake sticky buns at 350 degrees F for about 20 minutes, or until the tops are just starting to turn golden, and there are no doughy bun centers.

Allow buns to cool for a few minutes before dousing them in the remainder of your sweet sticky sauce.

Serve warm!
Nutrition
Calories:
287
kcal
|
Carbohydrates:
43
g
|
Protein:
4
g
|
Fat:
10
g
|
Saturated Fat:
3
g
|
Sodium:
156
mg
|
Potassium:
144
mg
|
Fiber:
1
g
|
Sugar:
17
g
|
Vitamin A:
325
IU
|
Vitamin C:
1.2
mg
|
Calcium:
43
mg
|
Iron:
2
mg