Enchiladas. Kale. How on earth did those two food items ever end up on the same line??? Honestly, I'm still trying to figure that out.
Let's talk about my relationship with greens. I'm not talking about lettuce. I'm talking about all those oh-so-good-for-you but sometimes too-healthy-to-eat greens like kale, collards, and swiss chard, to name a few. Let's just say that we're still getting to know each other. As part of my effort to get to know some of those wonderful (and occasionally absurd veggies), I joined a summer CSA program. Read more about summer CSA's in your area here.
In this past week's CSA box, I received quite a few greens to use up, which proves to be a big challenge for me every time. I'm learning, but it takes time. I can't say that I'm at the point where I absolutely love greens cooked and seasoned all on their own (except kale chips, that's a different story), but we're getting there.
In the meantime, this.
Kale, married off to black beans and living in a tortilla smothered in sauce and Trader Joe's vegan mozzarella style shreds.
Honest fact: These some of the best enchiladas I've ever tasted.
Aaaannnd, they're completely vegan, fake meat free, low in fat, easy to assemble, and just all-around amazing.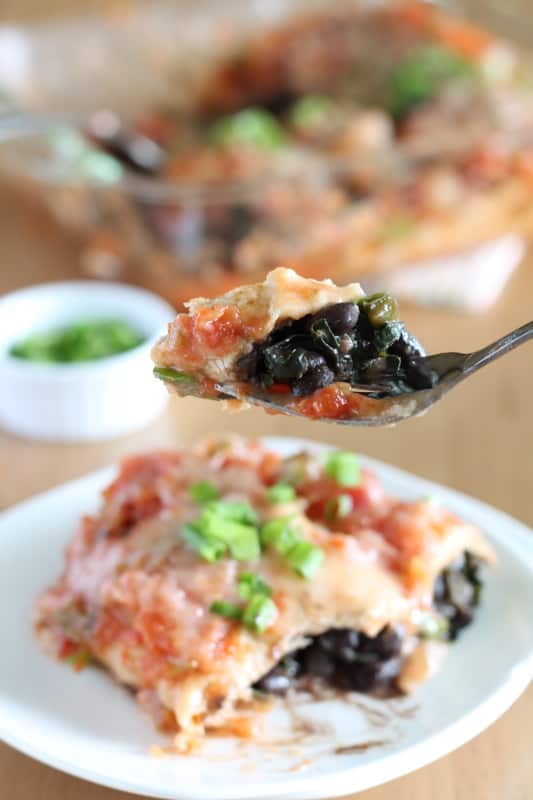 In fact, you probably won't even notice the kale. Greens without tasting greens? Win win!!
I hope you all have a wonderful weekend and fabulous Sabbath rest.