Hi Friends!
I hope you're each having a fabulous weekend and are hungry for some super yummy vegan lunches this week. Here's my faves.
1. Monday: Summer Reboot Salad with Kale, Corn, and Sweet Miso Dressing from Kathy at Healthy Happy Life.
Everybody knows that I never make a recipe exactly as it is written, and this summer reboot salad was no exception. It's not that Kathy's recipe isn't fabulous to start with, because it is. It's just that I realized at the last second that all my kale had gone bad (poo!) and that miso paste was going to be harder to find than I had originally thought. So, I used spinach instead of kale, added a little extra tahini instead of miso paste, and tossed in some garbanzo beans for added filler and protein. Needless to say, even with all of my adjustments, the recipe still tasted delicious. You're going to love it.
If you're planning to make this salad several hours in advance to pack for work or school, I recommend using kale as the recipe indicates, rather than spinach, as it tends to wilt quickly.
2. Tuesday: Mashed Chickpea Salad Sandwiches from Julie at The Simple Veganista
What can I say? This chickpea salad was seriously delicious. I left out the carrots, just because I wasn't in the mood for them that day(?!?!). Even without carrots, these sandwiches made the perfect lunch.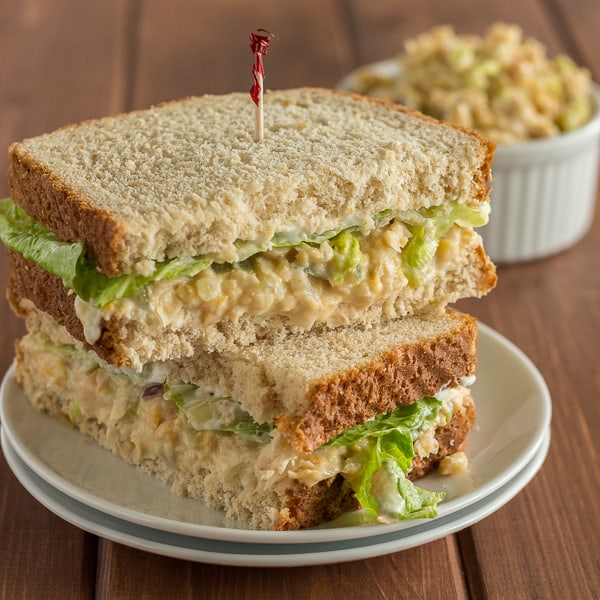 3. Black Bean Burrito Bowl from Vegan Yumminess
Can anything go wrong with brown rice, black beans, veggies, lime, and cilantro? Nope. I think not. End of story.
4. Crazy Veggie Burgers from Vegan Yumminess
I love that these patties are full of veggies and can be eaten in burgers, sliders, or even sandwiches. Add some lettuce, tomato, onion, and mayo on your favorite bread, and you're good to go.
4. Thursday: Thai Peanut Empowered Noodle Bowl posted by Kiersten at Oh My Veggies (Recipe from Angela Liddon's brand new Oh She Glows cookbook!)
I know, I know…I've included this recipe in a weekly vegan lunch menu before, but it was seriously an amazing entree. I couldn't help but put a link in this lineup as well. You'll love it. I promise. ;)
Happy Eating!