It's been way too long since I've posted a recipe.
But I have an excuse: I've been getting quite large, ya'all. At 34 weeks preggo, nesting mode is in full swing. That means I've been cleaning, organizing, planning, and pretty much putting the rest of my life on hold–including making and photographing new recipes, sadly.
Here's the big ol' belly.
Ahem.
Anyways, so walnut burgers. If you've ever had a baby or just wanted to pack away some food items in the freezer for future, more busy, sleep-deprived times, you know how potentially wonderful and important these walnut burgers could be.
All you have to do is bake your patties, let them cool to room temperature, put them in freezer bags or other freezer-safe containers, and throw them in the freezer. Then, when you're hungry as a bear and don't have time to cook, all you have to do is throw a frozen patty into the toaster (or microwave or skillet or oven) until it is heated to your liking, and eat it in a bun with some veggies and vegan mayo. Easy peasy.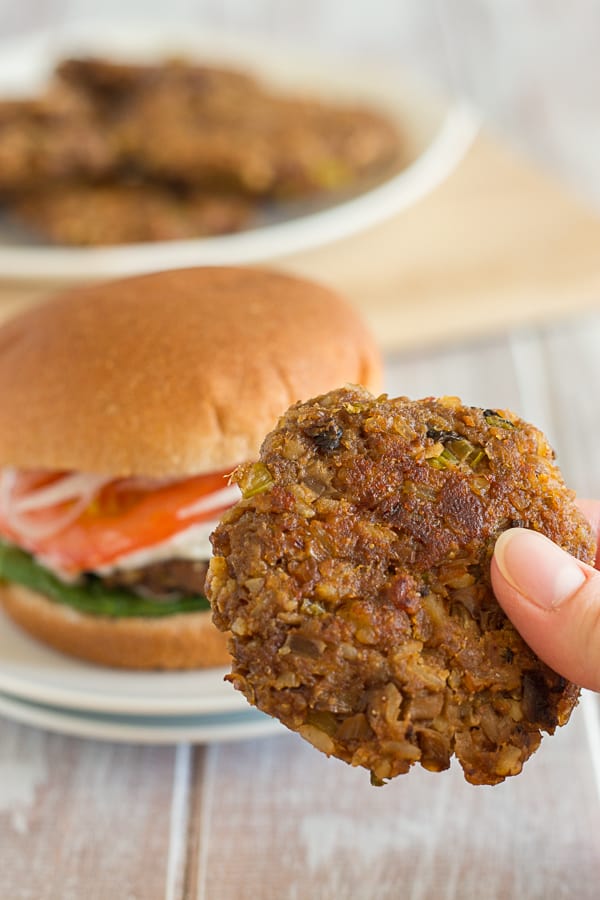 And SO flavorful.
Something you're really going to love about this recipe is the texture of the patties. So many vegan burgers I've tried are too mushy or too rubbery or even just hard as bricks. Not. These.
The walnuts, rice, bread crumbs/gluten flour work together to make these burgers firm and chewy, but not tough or rubbery, in my opinion.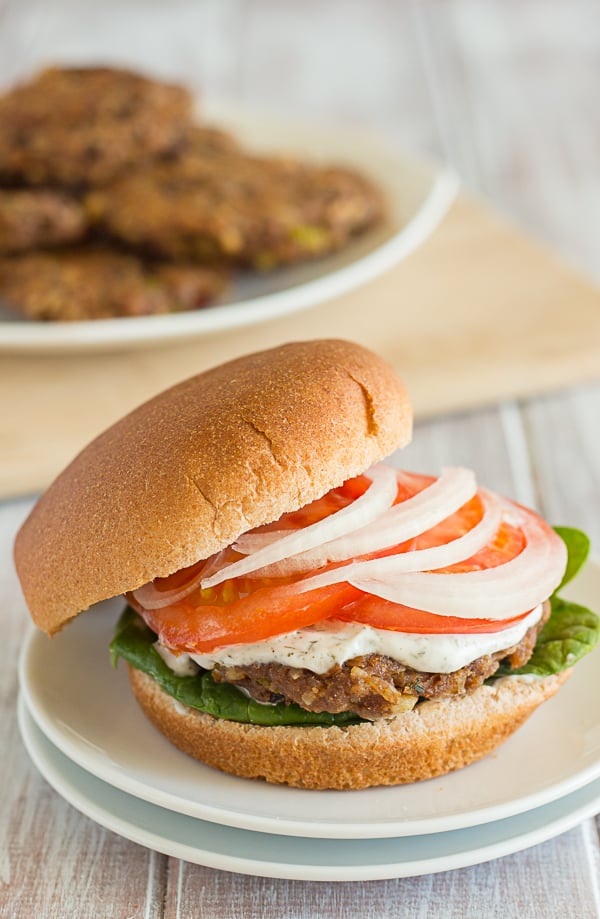 And, because every burger needs to be slathered in some sort of tangy sauce, I mixed together a few tablespoons of vegan mayo, a few squeezes of lemon juice, and a pinch of dill weed, and smeared all that on my burger.
The result? Yumminess.
Print Recipe
Walnut Burgers
Easy vegan walnut burgers with rice and veggies that are easily freezable
Ingredients
1

stalk celery

finely chopped

1/2

medium onion

approximately 2/3 cup, finely chopped

1

cup

finely chopped mushrooms

about 4 ounces

1

tablespoon

extra virgin olive oil

optional

2

cups

bread crumbs

homemade or store-bought

1

cup

cooked rice

white or brown is fine

1

cup

walnuts

finely ground to almost meal consistency in a food processor or blender

6

tablespoons

gluten flour

also known as vital wheat gluten

2

tablespoons

minced fresh parsley

or dry ground

1

clove

garlic

minced

2 1/2

tablespoons

soy sauce

or to taste

3

tablespoons

water or unsweetened soymilk

Actual amount needed may vary slightly.
Instructions
In a skillet, saute celery, onion, and mushrooms in 1 tablespoon of olive oil (or a few tablespoons of water) until they are soft.

In a large bowl, combine all remaining ingredients (and sauteed veggies when they are finished.) You may have to adjust how much liquid (water or soymilk) is needed based on whether you use store-bought bread crumbs or make your own out of fresh bread, like I did. I recommend adding extra water or soymilk 1 tablespoon at a time until your burger mixture reaches your desired consistency (not sopping wet, but soft, moist, and malleable).

Preheat oven to 350 degrees Fahrenheit.

Shape burger mixture into round 1/4 cup sized patties and place on an oiled or non-stick lined cookie sheet. Bake patties for approximately 30 minutes, flipping each patty over after the first 15 minutes.

Allow patties to cool for a few minutes before serving. Allow patties to cool to room temperature before freezing.
Notes
This recipe was inspired by Kay Hansen's recipe in her Vegan Homestyle Cookbook.
Nutrition
Calories:
180
kcal
|
Carbohydrates:
21
g
|
Protein:
5
g
|
Fat:
8
g
|
Sodium:
342
mg
|
Potassium:
126
mg
|
Fiber:
2
g
|
Sugar:
1
g
|
Vitamin A:
55
IU
|
Vitamin C:
1.6
mg
|
Calcium:
48
mg
|
Iron:
1.5
mg
"The LORD is good unto them that wait for him, to the soul that seeketh him." Lamentations 3:25 (King James Version)