When it comes to vegan food/non-traditional eating, community is so so so important. We need each other–to learn from and encourage each other. There are SO many people from whom I've learned and gained inspiration when it comes to vegan food.
This time, I have my friend Rebecca to thank for inspiring this recipe. She and her little family know vegan Tex-Mex, and they know it well.  A few weeks ago, Rebecca introduced me again to her version of vegan baked chimichangas. They just about knocked me off my seat and were unbelievably, better-than-restaurant-quality, amazing.
Chimichangas–other than a really cool word from Mexican restaurants' menus–are simply fried burritos. But here's the secret, you don't have to deep fry them. You can pan fry or even bake them, and they'll still be delicious.
While you can put any vegetables and beans or other protein you like in these chimis, to me there's just nothing like garden fresh red bell pepper and squash to add texture and flavor.
And then, of course, because I think Tofutti's Better than Sour Cream is one of the best food inventions ever, I had to throw some of that in there as well.
To illustrate the differences in pan-fried and baked chimis, I snapped the picture below. The chimi on the left was pan-fried, while the right chimi was baked. I didn't find too many differences, as I used the same amount of oil on each. However, the pan-frying method allowed me to carefully control the amount of crunch on the outside of each chimi individually. When you're baking a huge pan of chimis, You might have a tortilla turning black on the edge, and one that has barely any crunch to it in the middle of the pan, as is shown below.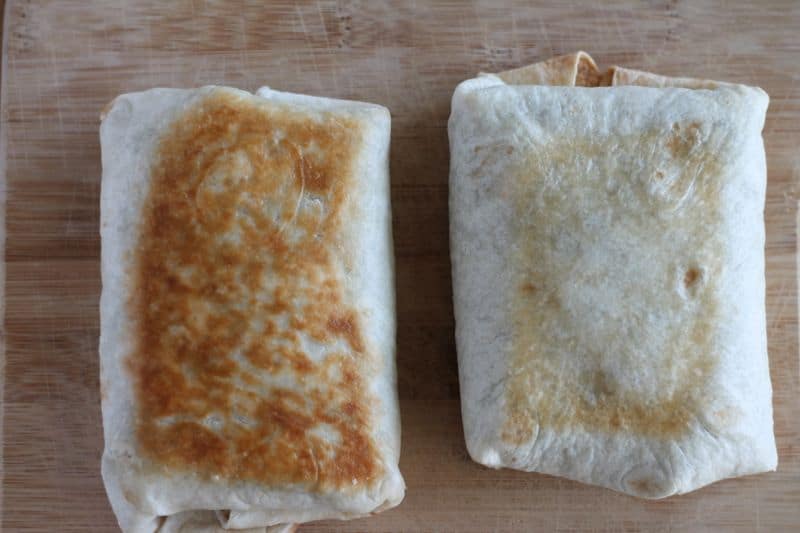 What knocks this dish out of the park is the cashew cream sauce with chopped green chiles. By the time I snapped this picture, my cashew white sauce had cooled and thickened some. Ideally, you want to serve it hot, while your sauce is a little more runny.
And then, you're going to put your chimi on a bed of lettuce, smother it in cashew white sauce, olives, cilantro, guac, salsa, and vegan sour cream. You'll want to bury your face in it. Seriously.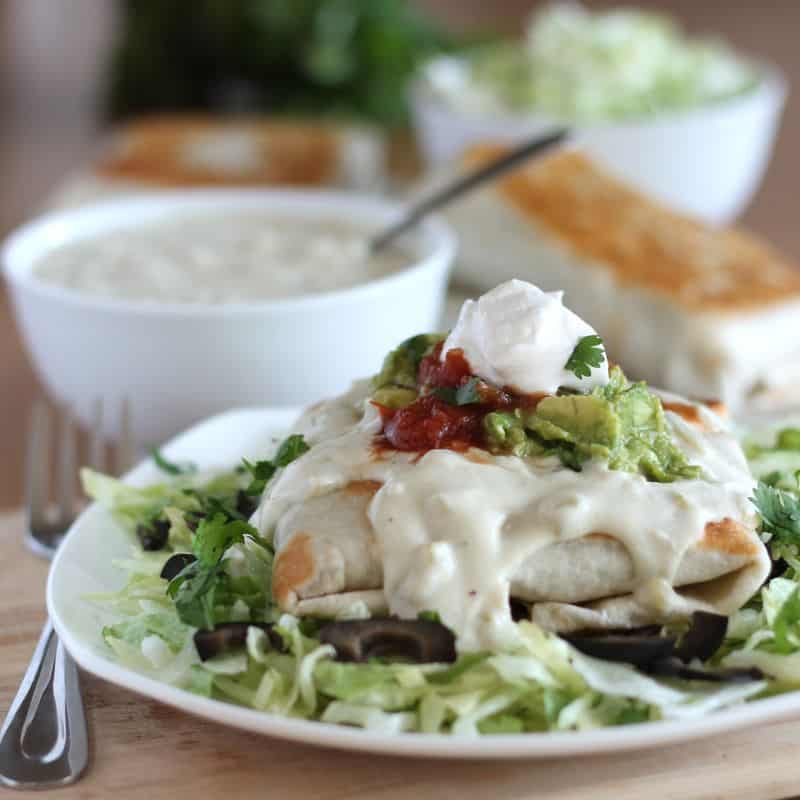 "And we know that all things work together for good to them that love God, to them who are the called according to his purpose." Romans 8:28 (King James Version)
Vegan Vegetable Chimichangas
Ingredients
For the Chimichangas:
2

cups

dried Butler's soy curls

which, soaked/reconstituted still makes 2 cups, packed; or use vegan protein source of your choice (Burger crumbles or seitan work great too.)

1

cup

summer squash

halved lengthwise, seeded, and sliced

2 1/2

tablespoons

extra virgin olive oil

divided, see instructions below.

1/2

cup

red onion

chopped, roughly 1 medium red onion

1 1/4

cup

bell pepper

juliened, and halved, approximately 1/2 of a bell pepper

1/2-1

teaspoon

salt

or to taste

1/2

teaspoon

chili powder

1/4

teaspoon

ground cayenne pepper

optional

6-7

large flour tortillas

3

tablespoons

sunflower oil

or olive oil, or other cooking oil of your choice

Refried beans

(Use your favorite recipe.)

Toppings of your choice

like lettuce, vegan sour cream, guacamole, olives, pico de gallo, etc.
For the Cashew White Sauce:
2

cups

water

2/3

cup

raw cashews

2

tablespoons

all purpose flour

1

tablespoon

nutritional yeast flakes

1

teaspoon

lemon juice

1

teaspoon

garlic salt

1/4

teaspoon

cayenne pepper

(or to taste)

4

ounces

canned green chiles

(1 small 4 ounce can)
Instructions
For the Chimmichangas:
Soak/reconstitute your soy curls in warm water for 8-10 minutes.

In a skillet, saute your summer squash in 1 tablespoon of olive oil for about 1minute. Then, add your red onion and bell pepper. (Summer squash needs a little more time to cook.)

Remove vegetables from your skillet and set aside in a separate container. Next, add 1 to 1 1/2 tablespoons of olive oil to your pan and fry your soy curls just until some of the edges are crispy. Add your chili powder, cayenne, and salt to taste, then toss your set-aside vegetables back into the pan. Remove from heat.

Assemble your chimichangas by using tortillas that are at room temperature or warm. Place about 1/2 cup of beans, followed by 1/2 cup of your veggie/soy curl mixture into the center of your flat tortilla. I like to toss in a little vegan sour cream as well, but leave it out, if you wish. Fold your tortilla burrito style.

You can either bake or fry your chimichangas. For baking, I recommend brushing oil on both sides of your folded burrito, using roughly 1/2 tablespoon per burrito. Bake at 350 degrees Fahrenheit for 8 minutes on each side.

For pan-frying, I recommend heating your skillet and oil to medium or medium/high heat. Use just enough oil to barely cover the bottom of your pan. Depending on the size of your pan, you may need a little more or less than 3 tablespoons of oil total. Fry burritos for about 1 minute per side, or until they have turned a beautiful golden color.

Serve your chimis hot with all your favorite trimmings. I like to make a bed of lettuce, put my chimi on top, cover it in the white sauce with green chiles, and put olives, salsa, vegan sour cream, guacamole, and cilantro on top.
For the Cashew White Sauce:
In a high speed blender, place cashews, water, flour, lemon juice, yeast flakes, garlic salt, and cayenne pepper. (Save green chiles for later.) Blend on high until mixture is completely smooth.

Pour blender contents into a saucepan on medium heat, and cook until mixture is bubbly and thickened.

Now stir green chiles into white sauce. Serve hot over chimichangas.
Notes
This recipe was inspired by my dear friend Rebecca who first introduced me to homemade chimichangas and the delicious cashew white sauce that goes over them. 
*This post may contain affiliate links. As an Amazon associate, I earn from qualifying purchases.
Nutrition
Calories:
365
kcal
|
Carbohydrates:
29
g
|
Protein:
13
g
|
Fat:
23
g
|
Saturated Fat:
3
g
|
Sodium:
925
mg
|
Potassium:
448
mg
|
Fiber:
3
g
|
Sugar:
5
g
|
Vitamin A:
1152
IU
|
Vitamin C:
51
mg
|
Calcium:
80
mg
|
Iron:
4
mg