Vegan Tofu Egg Salad Sandwiches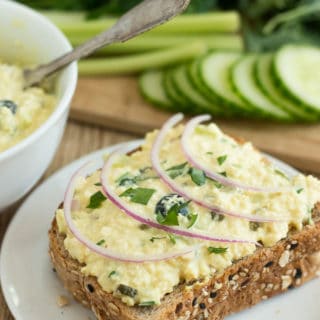 Author:
Prep Time:

10 mins

Total Time:

10 mins

Yield:

8

Category:

Sandwich
Ingredients
1 block extra firm tofu (about 16 oz)
2/3 cup vegan mayo
1/3 cup sweet pickle relish ( I used Pa's Pickle Relish, which is a vinegar-free variety)
1/3 cup diced celery
3 Tbs finely diced red onion
1/4 cup sliced black olives
2 Tbs minced fresh parsley
1 tsp onion powder
1/2 tsp turmeric
1/4 tsp garlic powder
1 tsp Himalayan black salt (or sea salt, if you don't have black salt)
1 Tbs lemon juice
1 tsp sugar
Instructions
Drain water off block of tofu. No need to press.
In a bowl, mash tofu until crumbly.
Add remainder of ingredients, and stir until well-combined.
Place in refrigerator for 2-3 hours. This allows the flavors to blend properly and for the turmeric to brighten this salad into a beautiful light yellow color resembling egg salad.
Spread on slices of bread with your choice of veggies for a delicious sandwich, or use as a dip for vegetables or crackers.