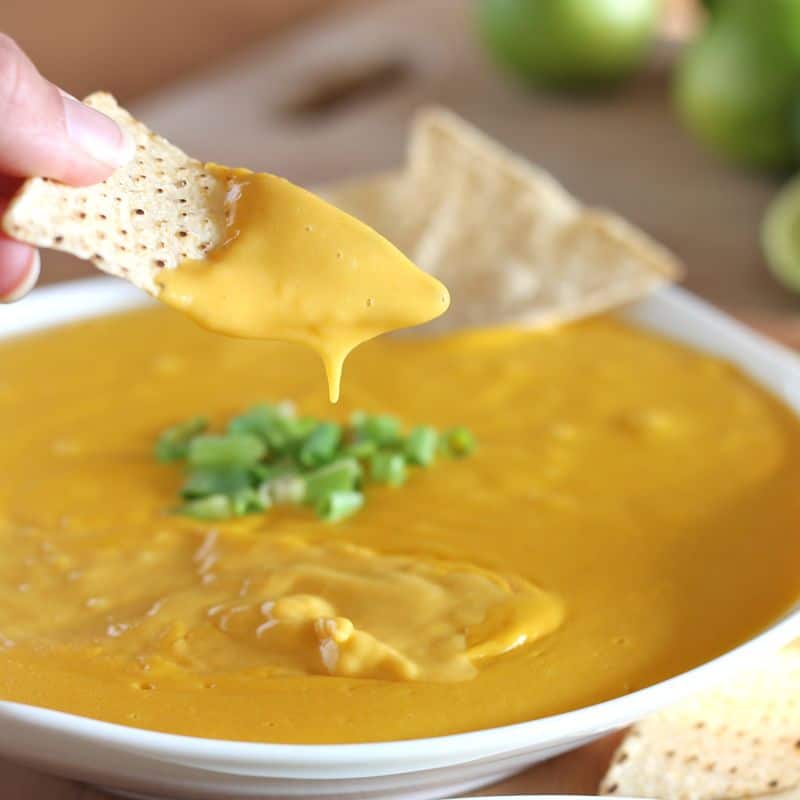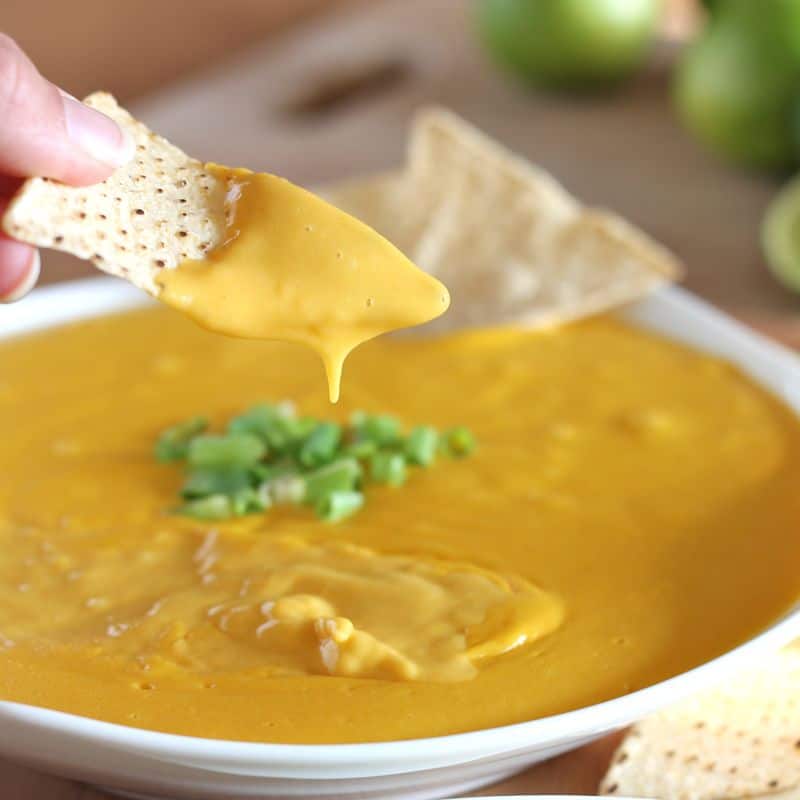 My big sister came to visit from California this week.
This may be no big news to you, but really, you should be excited.
Yep. My sister Megan brought with her one of the best vegan "cheese" recipes known to man. I can say that with confidence, because Megan is a busy medical student, and she doesn't waste time with recipes that don't "work," if you know what I mean. If she's got the recipe for it, you know its a good one.
What's more? This "cheese" is vegan, soy-free, gluten-free, nut-free, corn-free and all-around probably the best-tasting vegan nacho cheese dip I have ever eaten. Sound too good to be true?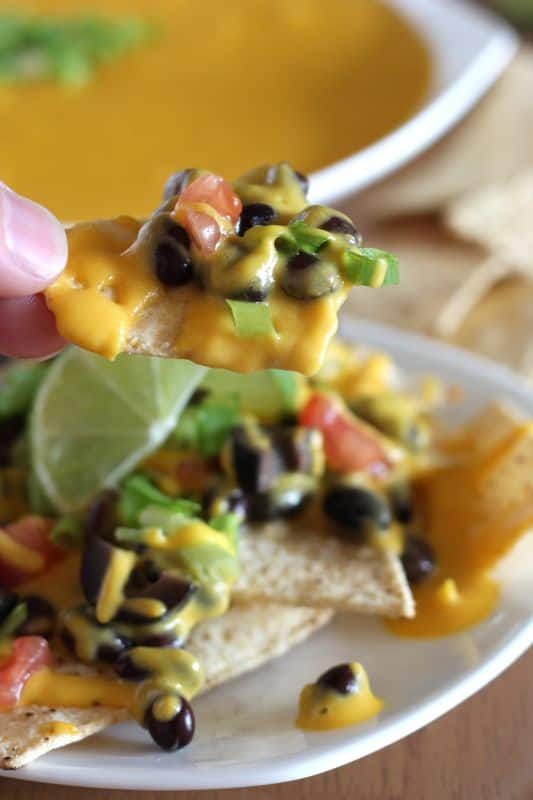 Don't bother pinching yourself, because this is reality, my friends. True story.
Once you try this recipe, you're not going to stop with just nachos. With one batch of this stuff, we have eaten nachos, quesadillas, grilled "cheese" sandwiches, and my sister even put this stuff on her pasta with vegetables.
Some vegan cheeses get all gross and gummy after being refrigerated. Not this one, folks. Nope. This "cheese" tastes best after you heat it up a bit either on the stove or in the microwave. It gets all bubbly and melty and wonderful.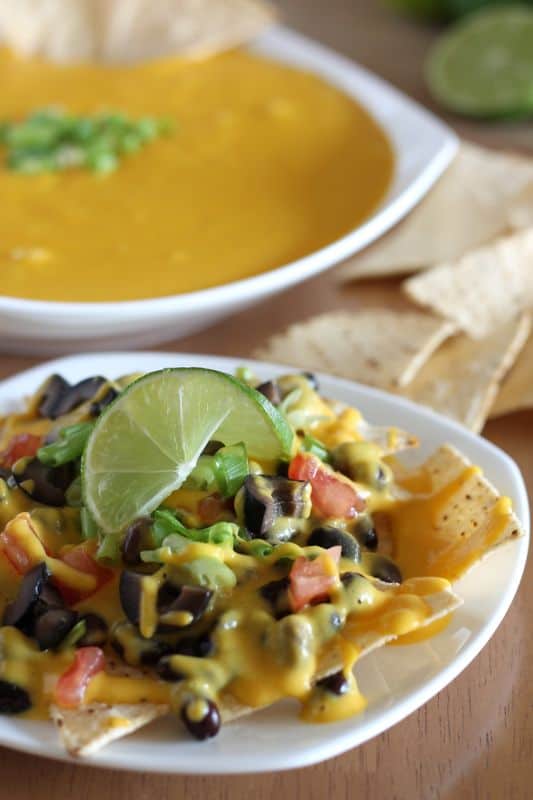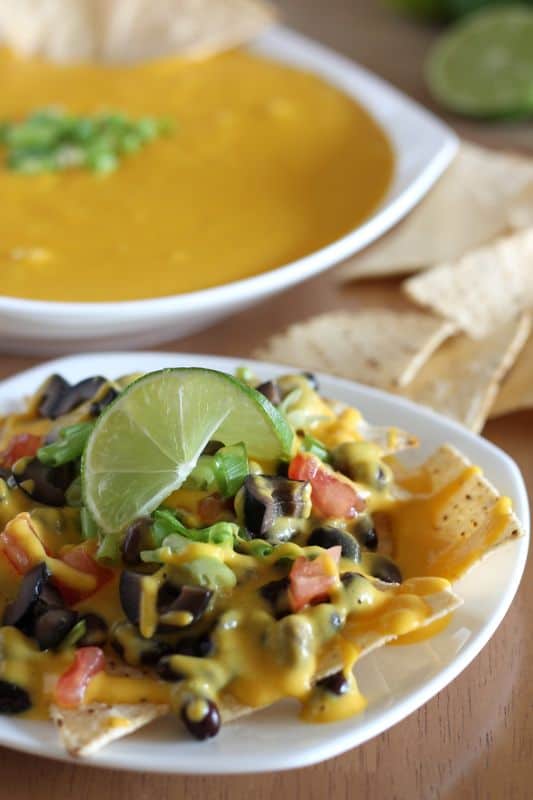 Here's how you're going to do it:
1. Follow the recipe below to make the amazing vegan nacho "cheese." (You're going to need to peel, chop, and boil a few potatoes and a few carrots.
2. On a plate, assemble some chips, and spoon black beans on top.
3. Drizzle your "cheese" all over your beans and chips.
4. Sprinkle your favorite nacho toppings all over your chips, beans, and "cheese." I used diced tomatoes, olives, and green onions.
5. Drizzle more "cheese" over everything.
6. Garnish with lime, if you wish, and serve!
Note: This recipe was inspired/adapted from my sister Megan's recipe, who got it from my mom, who got it from a friend from church, who got it from her son who has fairly recently founded Wayfare Foods. Wayfare produces vegan and gluten-free foods like ice cream and cheese out of oatmeal! Check out their product line here. Or go here for instructions on how to request Wayfare products from your local health food or grocery store. I've tried their vegan cheeses and ice cream, and it's all amazing.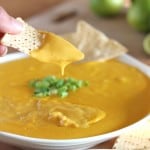 Print Recipe
Vegan Nacho Cheese
Easy and delicious vegan nacho sauce that can easily be customized with your favorite spicy toppings to make a tasty vegan queso.
Ingredients
2

cups

cooked and mashed potatoes

Requires about 2 medium potatoes.

3/4

cup

cooked carrots

Requires about 1.5-2 large carrots

1/2

cup

nutritional yeast flakes

1/3

cup

extra virgin olive oil

1/3

cup

water

1

tablespoon

lemon juice

1.5

teaspoon

salt
Instructions
Place 2 medium saucepans on stove, pour 4 cups of water in each, and turn on medium-high heat.

While waiting for your water to boil, peel and dice your potatoes and carrots, then place potatoes and carrots separately into 2 saucepans.

Cook potatoes and carrots in respective saucepans until each is fork tender–usually about 5-10 minutes, depending on how small you've diced them.

Drain water from potatoes, and measure out 2 cups of the cooked potatoes, mashing and packing them into measuring cups. Place the 2 cups into a blender.

Drain water from carrots. Measure 3/4 cup of cooked carrots (loosely packed), and place in blender.

Add remaining ingredients–nutritional yeast, oil, water, lemon juice, and salt to the blender.

Blend on high for 1-2 minutes until everything is smooth and creamy.

Serve hot over your favorite chips, and top with all the diced veggies that your heart desires.
Notes
Store leftovers in an airtight container in the refrigerator for 3 days. 
Add diced veggies–jalapeños, green onions, tomatoes, black olives, or whatever your heart desires to make these nachos your own.
*This post may contain affiliate links. As an Amazon associate, I earn from qualifying purchases.
Nutrition
Calories:
168
kcal
|
Carbohydrates:
12
g
|
Protein:
3
g
|
Fat:
12
g
|
Saturated Fat:
1
g
|
Sodium:
600
mg
|
Potassium:
417
mg
|
Fiber:
3
g
|
Vitamin A:
2675
IU
|
Vitamin C:
10
mg
|
Calcium:
27
mg
|
Iron:
2.6
mg