Hi Friends!
I don't know about you, but I'm ready for the weekend! And here is something to start you off on the right foot…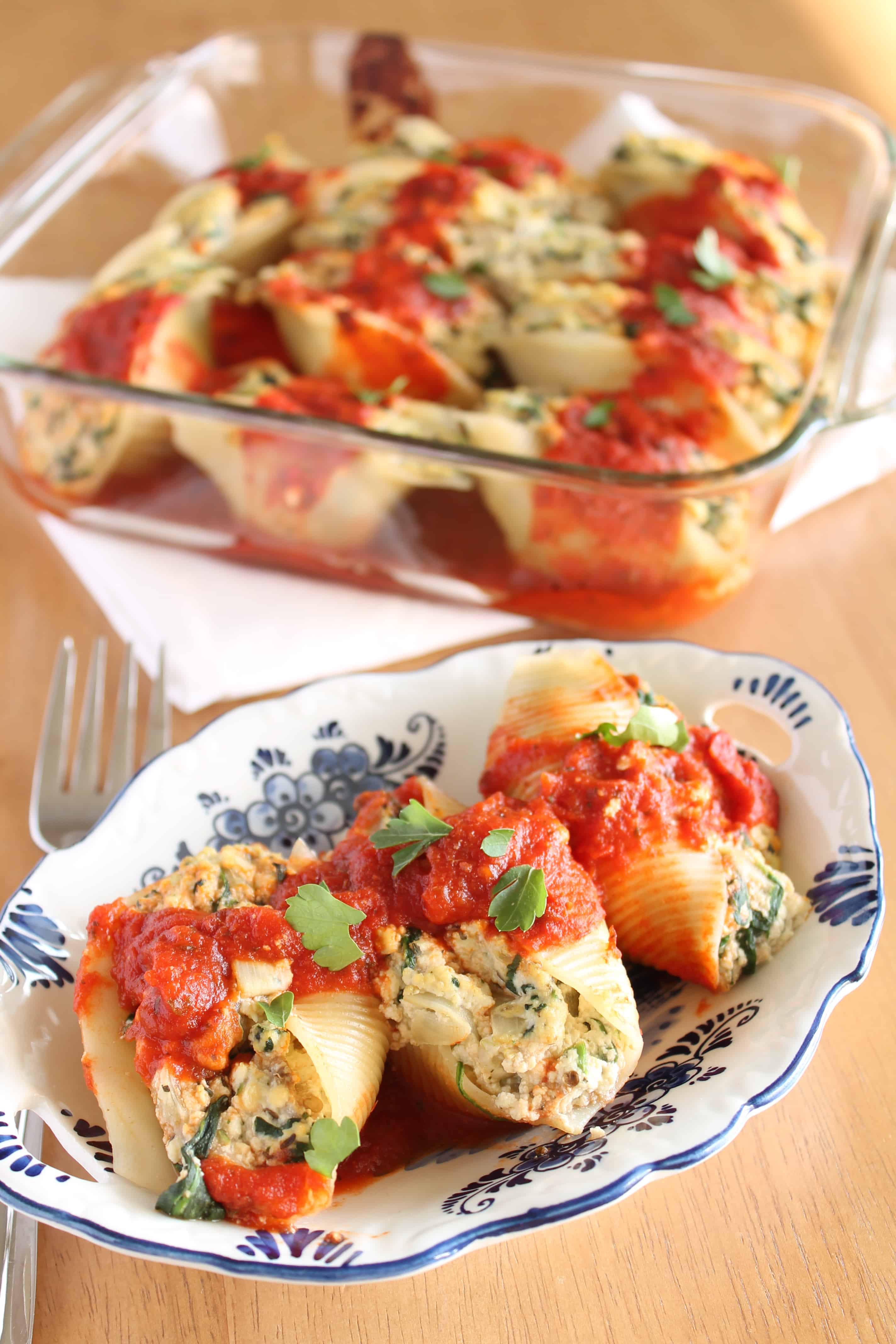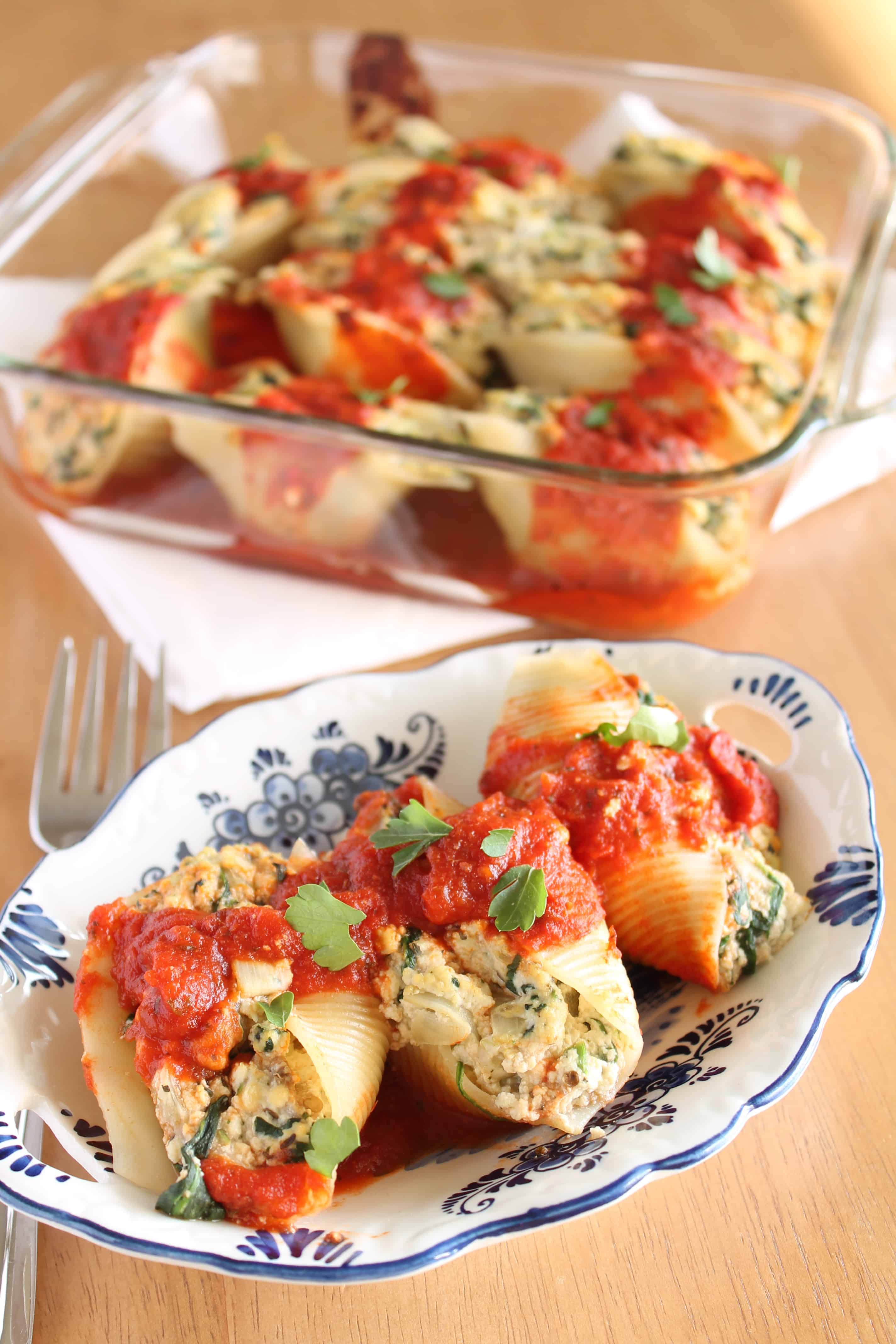 I'm not sure what propelled me to roast an eggplant and toss it in the tofu filling for these jumbo shells.
Sadly, this is the first time I've eaten eggplant in a very long time. How could I have been missing out on such an amazing vegetable!
Vegan Tofu Ricotta and Eggplant Stuffed Shells
Ingredients
1

large eggplant

3

tablespoons

extra virgin olive oil

divided

salt

for eggplant

21

ounces

extra firm tofu

or 1 and 1/2 blocks

1/4

cup

raw cashews

1/4

cup

water

1

clove

garlic

1/2

cup

onion

chopped

3/4

cups

frozen spinach

1 1/2 -2

teaspoon

salt

(Or to taste, and yes, I know this is the second time salt is listed. :))

1 1/2

tablespoon

nutritional yeast flakes

1

teaspoon

dried basil

20

jumbo pasta shells
Instructions
Slice the top off of your eggplant. Then, cut it in half lengthwise. Score each half as if you were going to cut it into cubes when you're done roasting it.

Sprinkle each eggplant half generously with salt– in the scored cuts as well. Now, you'll let your eggplant halves sit, cut side up, for about 30 minutes. Preheat your oven to 400 degrees F towards the end of the 30 minutes.

After 30 minutes, you'll notice that each eggplant has quite a bit of water droplets on the top and in the cuts of it. Squeeze each eggplant half gently over the sink, and let the salty water run out.

Now, put your eggplant in a rimmed baking pan that is lined with either parchment paper or a silicon liner. Brush each eggplant half with about 1 tablespoon of olive oil, then place each half cut side down on to your baking sheet.

Bake your eggplant for about 40-45 minutes, or until the eggplant has mostly collapsed, and the inside is soft and mushy.

While your eggplant is baking, you can get started on your filling and cook your jumbo pasta shells.

Cook your jumbo pasta shells according to package instructions. I like to boil mine in an uncovered pot of salted water for about 11-13 minutes.

In a medium frying pan, saute 1 clove of minced garlic and onion with 1 tablespoon of olive oil. When your garlic and onion have been cooking for about 1 minute, add your frozen spinach to the mixture, and cook everything until the spinach is just thawed.

In a medium sized bowl, mash your tofu with a fork until it is crumbly. Take about 1/4 to 1/2 cup of your crumbled tofu and put it in your blender with 1/4 cup cashews and 1/4 cup water. Blend on high until the mixture is smooth.

Pour blender contents back into medium sized bowl, and add garlic, onion, salt, yeast flakes, basil, and the spinach mixture as well. Mix it up. :)

Once your eggplant is finished roasting, use a spoon to scrape out the eggplant contents from the skin, and put them directly into your tofu mixture. Stir it up!

Stuff your shells with your eggplant tofu mixture, and place in a bed of your favorite marinara in a 9 X 13 in baking dish. Pour a little more marinara on top of your shells. At this point, you can sprinkle a little of your favorite vegan cheese on top, if you want. But, I just left it out.

Bake uncovered at 400 degrees for about 8-10 minutes, or until your tofu filling is just starting to turn more golden/yellow.

Serve hot.
Notes
While the ingredients call for 20 shells, I found that I used up all of my filling with 18 shells. Usually a few shells are damaged beyond repair with the boiling process, which is why I recommend cooking 20 shells total, just on case. ;)
This post may contain affiliate links. As an Amazon associate, I earn from qualifying purchases.
Nutrition
Calories:
94
kcal
|
Carbohydrates:
10
g
|
Protein:
5
g
|
Fat:
4
g
|
Saturated Fat:
1
g
|
Sodium:
37
mg
|
Potassium:
182
mg
|
Fiber:
2
g
|
Sugar:
2
g
|
Vitamin A:
770
IU
|
Vitamin C:
1.3
mg
|
Calcium:
26
mg
|
Iron:
0.9
mg