Sometimes ya just need a big ol' bowl of  soup. Today is one of those days. It's been raining for hours, and I love it. Unlike usual Tennessee summers, ours has been a very dry one. I think our last good rain was over a week ago. (In case you're wondering, that isn't very much rain for Tennessee.)
There's just something about rain and the soon-coming fall that calls for soup. SOUUUUUUUUUUP. Don't ask me why I just said that. I'm ridiculously sleep-deprived, and I couldn't think of a better way to depict the strong emotions I have towards this lip-smackin' black beany marriage of summer garden veggies and the warmth and comfort of fall.

Speaking of fall–is it really almost fall?? Is my sweet baby girl K really almost 2 months old?? Did she really keep me up until 3 am last night/morning?? Is Jonathan really graduating from anesthesia school in 3.5 months?!?!?!
Allow me to deliriously answer all 4 questions at once: YES. <Wake up, Lindsay, because stuff's about to get crazay.>
Guess what, guys–In case you just missed that, Jonathan is graduating in 3.5 months. (!!!!!) The funny thing is that I somehow feel like I'm graduating too–even though I haven't taken a single test since he started. I'm not sure which of us is more excited about graduation. Studying for certification boards, resume sending, interview planning, house hunting, and diaper changing (of course) have all commenced in earnest. I can't really think of any other time in my life when I've been more happy (and sleepy).
Annnnd what should you make for dinner (or lunch, for that matter) when you're happy and sleepy?
Black bean soup, of course!
I hope you'll find it just as delightfully easy and deliciously satisfying as we have.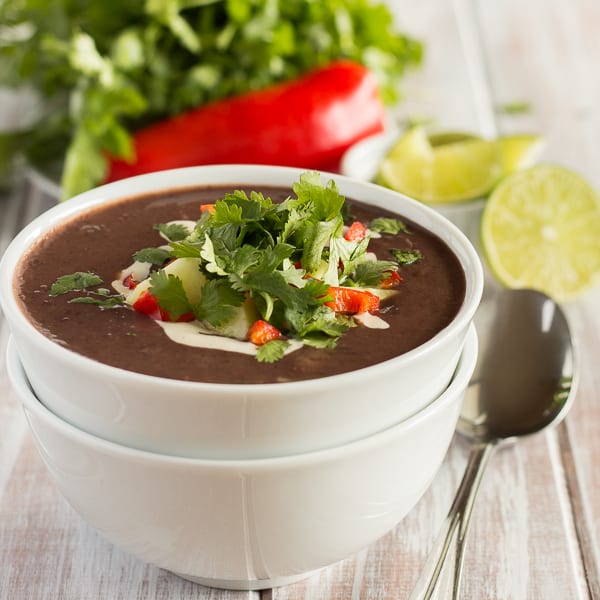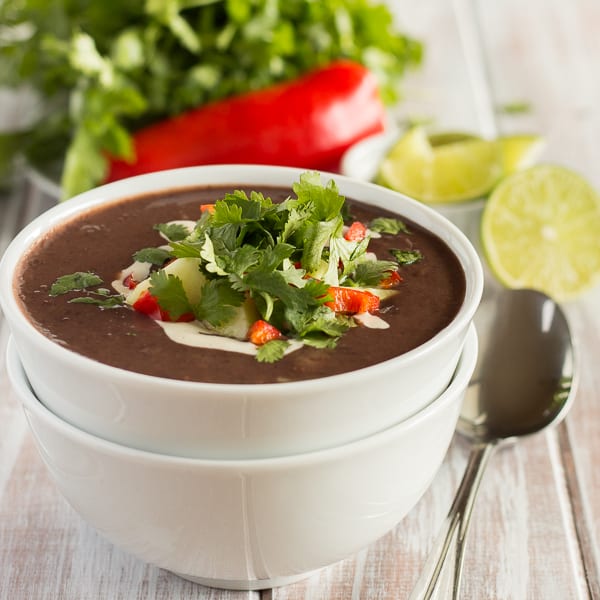 Print Recipe
Vegan Tangy Black Bean Soup
Vegan tangy black bean soup with lime and cilantro
Ingredients
4

cans

15 ounces each black beans (or 6 cups cooked black beans)

1

cup

water

1

medium onion

finely chopped

1

clove

garlic

minced

1

tablespoon

olive oil

1

teaspoon

chili powder

1/2

teaspoon

salt

or to taste--depending on salt content of canned beans

1/4

cup

fresh cilantro

finely chopped

Juice of 1 medium lime

or 2 tablespoons

1/8

teaspoon

cayenne pepper

optional

brown rice

vegan sour cream, cucumber, and bell pepper for serving (optional)
Instructions
In a food processor or blender, pulse beans with 1 cup water until a chunky puree forms.

Place 1 tablespoon of olive oil in a pot on medium-high heat, then saute onion and garlic for 1-2 minutes, or until onions are translucent and fragrant.

Pour bean mixture into your pot, followed by remaining ingredients: chili powder, salt, cilantro, lime juice, and cayenne.

Allow soup to simmer just until it is hot and bubbly. If you aren't serving your soup right away, and you find it is starting to dry out, feel free to add a splash of hot water.

Salt to taste.

Serve alone in a bowl, over chips, over rice, or topped with fresh cucumber and bell pepper.
Nutrition
Calories:
404
kcal
|
Carbohydrates:
69
g
|
Protein:
25
g
|
Fat:
3
g
|
Sodium:
205
mg
|
Potassium:
1039
mg
|
Fiber:
25
g
|
Vitamin A:
180
IU
|
Vitamin C:
1.7
mg
|
Calcium:
81
mg
|
Iron:
6
mg