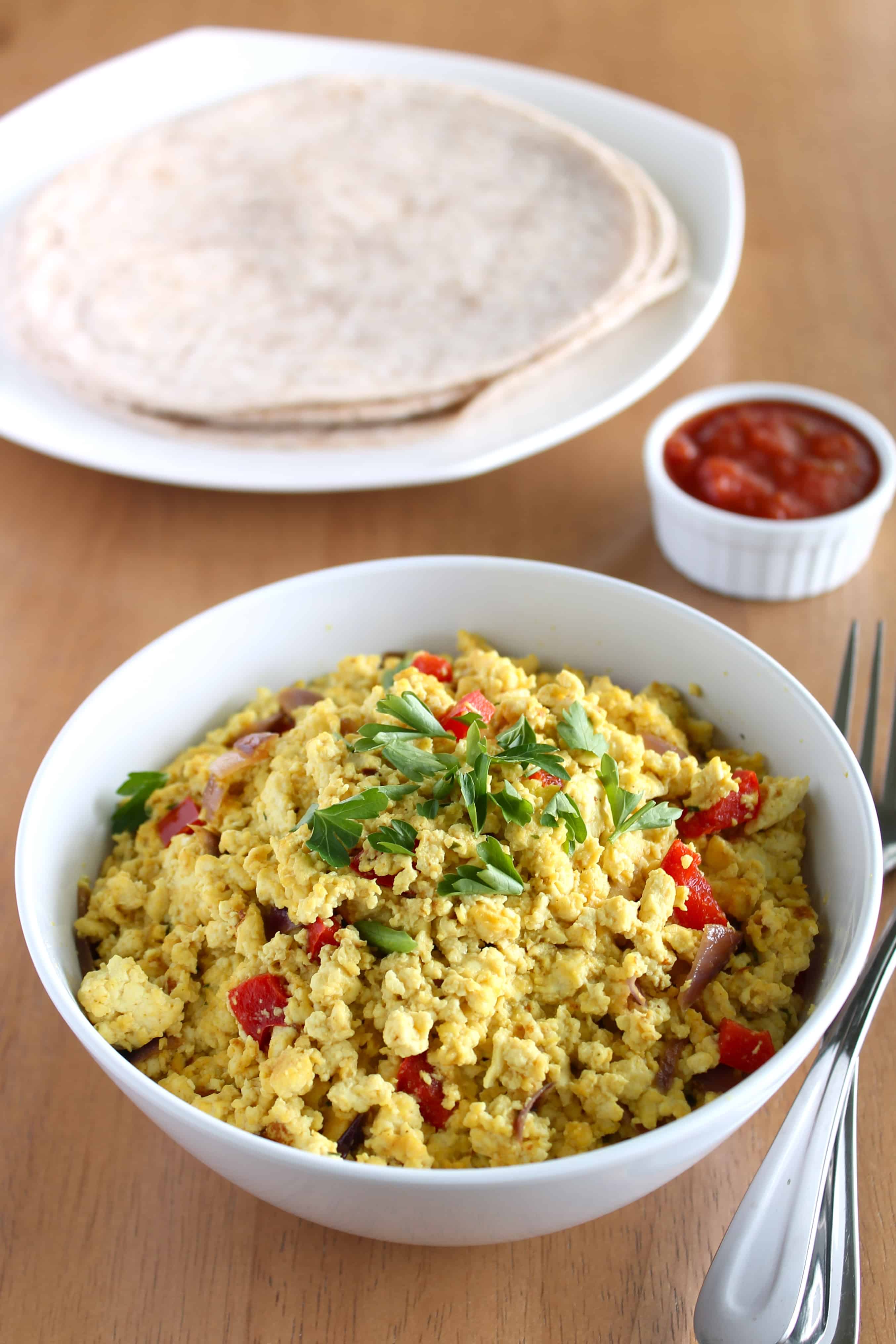 Yes, Folks, in case you didn't know already, breakfast is the best meal of the day–at least it has been lately here at our house. For the next week or two, we're going to be hosting a breakfast series here on Vegan Yumminess. (Yay!) Here's what we've got going on: scrambled tofu revisited (course, you already knew that one),  fruit and nut granola, peanut buttery granola, orange cinnamon rolls (flopped), apricot scones, and whatever else I can come up with.
Side note: Don't you hate it when you invest a lot of time and energy into a recipe (i.e., orange cinnamon rolls?), only to have the final product fall miserably short of perfection. Yep. I'm having another one of those weeks.
     Back to the scrambled tofu…
     When my family first became vegan in the early 90s, we discovered many new things–products like Better Than Milk powder (one of the only soy milks available at the time), tofu, and McKay's vegan chicken style seasoning. One of our favorite vegan breakfast entrees was tofu and potatoes, seasoned with McKay's. In fact, that breakfast is one of the first positive memories that I have of vegan food.
     If you've never tried McKay's, you just have to skeedattle over to this place or your favorite health food store and buy some. This site is where I've found it for the cheapest online, although I haven't actually purchased it from them myself. Why regular grocery stores haven't caught on to selling McKay's vegan chicken style seasoning yet is beyond me. (Okay, occasionally, I'll find a grocery store that carries it, but most don't. :(   ) For me, scrambled tofu just isn't scrambled tofu without McKay's–and I'm not being paid (or getting free McKay's seasonings) to say that.
     Several months ago, when this blog was still a brand new baby, I posted my first version of scrambled tofu. To tell you the absolute truth, the main reason I wanted to revisit that recipe was to take more pictures of it–and to add a new spin: breakfast burritos! The burrito part is super easy: Put your scrambled tofu in a whole wheat tortilla with some salsa and roll it up. Voila!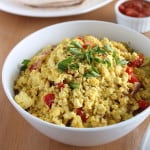 Print Recipe
Vegan Tofu Scramble
Ingredients
1/2

red onion

or 1/2 cup, finely chopped

1/4

red bell pepper

or 1/4 cup, finely chopped

1

clove

garlic

minced

14

oz

extra firm tofu

or one block

2

teaspoons

extra virgin olive oil

divided

2

tablespoons

nutritional yeast flakes

2

tablespoons

McKay's vegan chicken style seasoning

1/8

teaspoon

turmeric

salt to taste
Instructions
Place your chopped onion, bell pepper, and garlic in a skillet/frying pan with about 1 teaspoon of olive oil and saute it on the stove on medium-high heat. Remove from heat when your onions are beginning to change color. Set the whole thing aside.

In a bowl (or save a dish and do it right into your pan)m crumble your tofu and mix in your seasonings. If you like your tofu cubed rather than crunbled, you could totally do that for this recipe as well. Pour 1 teaspoon of olive oil on the bottom of a frying pan/skillet and place on your stove on medium to medium-high heat. Dump your tofu on top of your olive oil, and give it a little stir. Continue stirring every minute or so until your tofu begins to get firm-ish around the edges Really, though, you can call it "done" whenever you very well please. Raw tofu won't make you sick. :) I could eat it everyday….

Gently fold your onion/pepper mixture into your tofu. Serve hot, and enjoy! I like mine in some whole wheat tortillas with salsa.
Notes
This post may contain affiliate links. As an Amazon associate, I earn from qualifying purchases.
Nutrition
Calories:
121
kcal
|
Carbohydrates:
7
g
|
Protein:
10
g
|
Fat:
6
g
|
Saturated Fat:
1
g
|
Sodium:
1320
mg
|
Potassium:
264
mg
|
Fiber:
2
g
|
Sugar:
2
g
|
Vitamin A:
233
IU
|
Vitamin C:
11
mg
|
Calcium:
34
mg
|
Iron:
1
mg