Spinach Avocado Stuffed Portobellos
Print recipe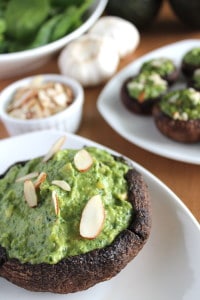 Ingredients
2 Portobello mushrooms (Or leave out the large Portabellos completely and just use 8 oz of Baby Bellos)
6-8 Baby bellos (Or 1 more large Portobello mushroom)
2 tablespoons extra virgin olive oil (divided)
1 1/2 cup fresh baby spinach (well packed)
1 clove garlic
1 ripe avocado
1/4 cup walnuts (toasted, if you want)
1 tablespoon nutritional yeast flakes
1 tablespoon lemon juice
salt to taste
handful of sliced almonds (for garnish)
Directions
Step 1
Preheat your oven to 450 degrees Fahrenheit.
Step 2
Gently wash your mushrooms in cool water, then remove the stems by getting a firm hold of the base of the stem, and pulling straight out.
Step 3
Line two rimmed baking sheets with foil or your favorite non-stick waterproof liner. Pour 1 tablespoon of olive oil in a small cup, and use a pastry brush to paint the edges and caps of your mushrooms with a tiny bit of oil.
Step 4
Place your mushrooms, cap side down, on your baking sheets, putting your baby bellos and large mushrooms on separate pans, as they need to bake for different lengths of time. Sprinkle the gills with a little salt.
Step 5
Bake all mushrooms at 450 degrees F for about 7 minutes, then remove your baby bellos. Leave the big ones baking for another 3-5 minutes (total of 11-12 minutes), or until the edges are starting to get all wrinkly and dry and delicious. Pour water out of caps and put back on your baking sheet.
Step 6
For your filling, combine your spinach, garlic, walnuts, and seasonings in a strong blender or food processor. Blend until chunky, but smooth.
Step 7
Peel and remove your avocado pit, then mash the contents until it is also chunky, but smooth. Pour blender contents over mashed avocado and stir it together. Now, taste it, and add salt to your preference.
Step 8
Spoon filling into your mushrooms and sprinkle with sliced almonds.
Step 9
At this point, you can serve your mushrooms with the raw filling if you wish (This is the stage at which all of the large mushrooms were photographed.). Or, if you are like me, and you love everything to be piping hot before you eat it, put your stuffed mushrooms back in the oven at 450 degrees F for another 3-5 minutes (This is the stage at which the small mushroom close-ups were photographed). This will dry out your filling just a tiny bit, and make it even more delicious, in my opinion.
Step 10
Serve 'em up and gobble 'em down. :)
Note
1. This recipe contains raw garlic. If you aren't a fan of raw garlic, just throw your garlic clove in with your mushrooms and let them roast for a few minutes before blending them up with your spinach.
2. This recipe tastes delicious with either the large portobellos or small baby bellos. However, if you're serving someone (or you yourself) who isn't used to the rich flavors of avocado and portobellos mushrooms, I recommend serving these up as appetizers using the baby bellos. They are delicious, bite-sized, and not too overwhelming.