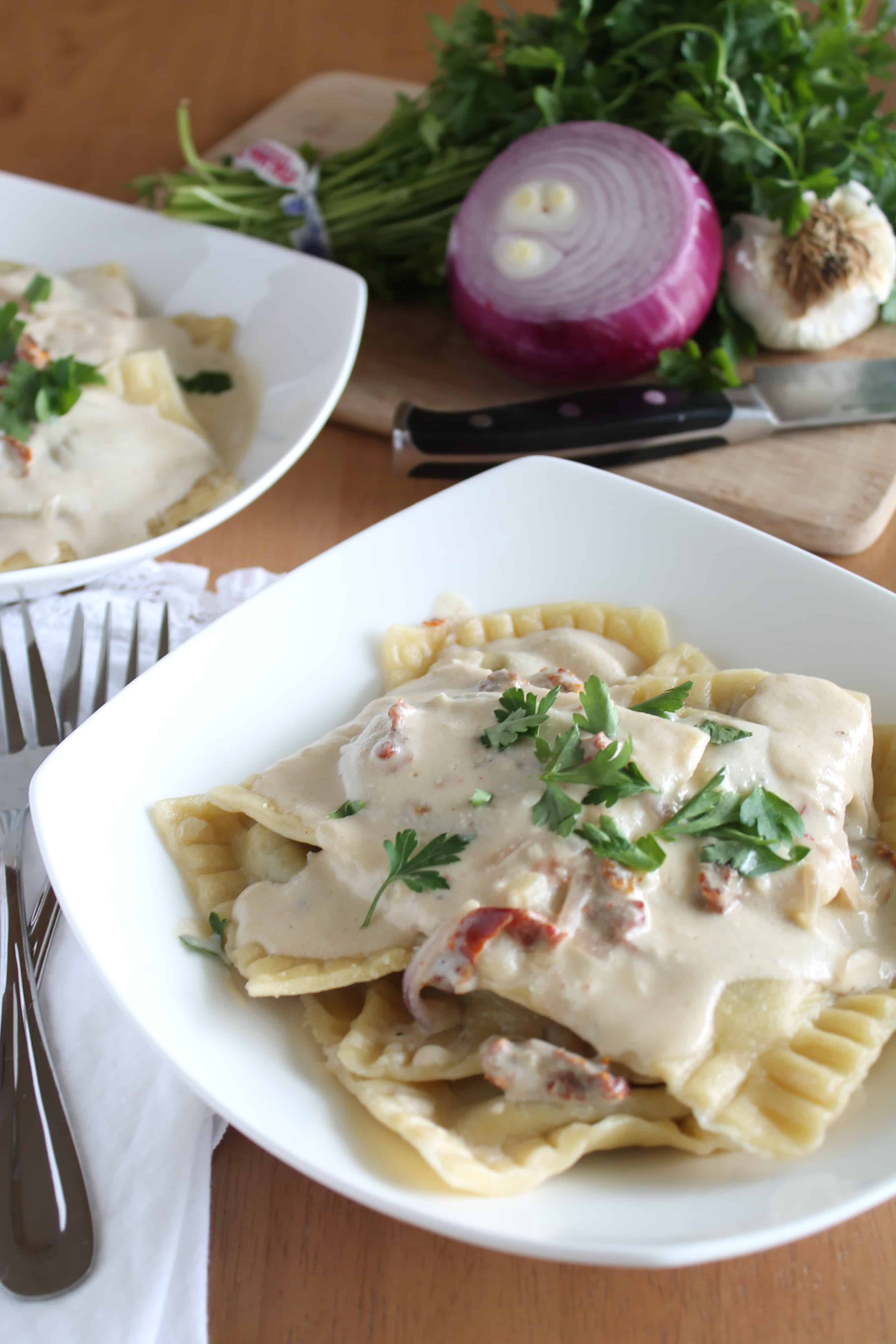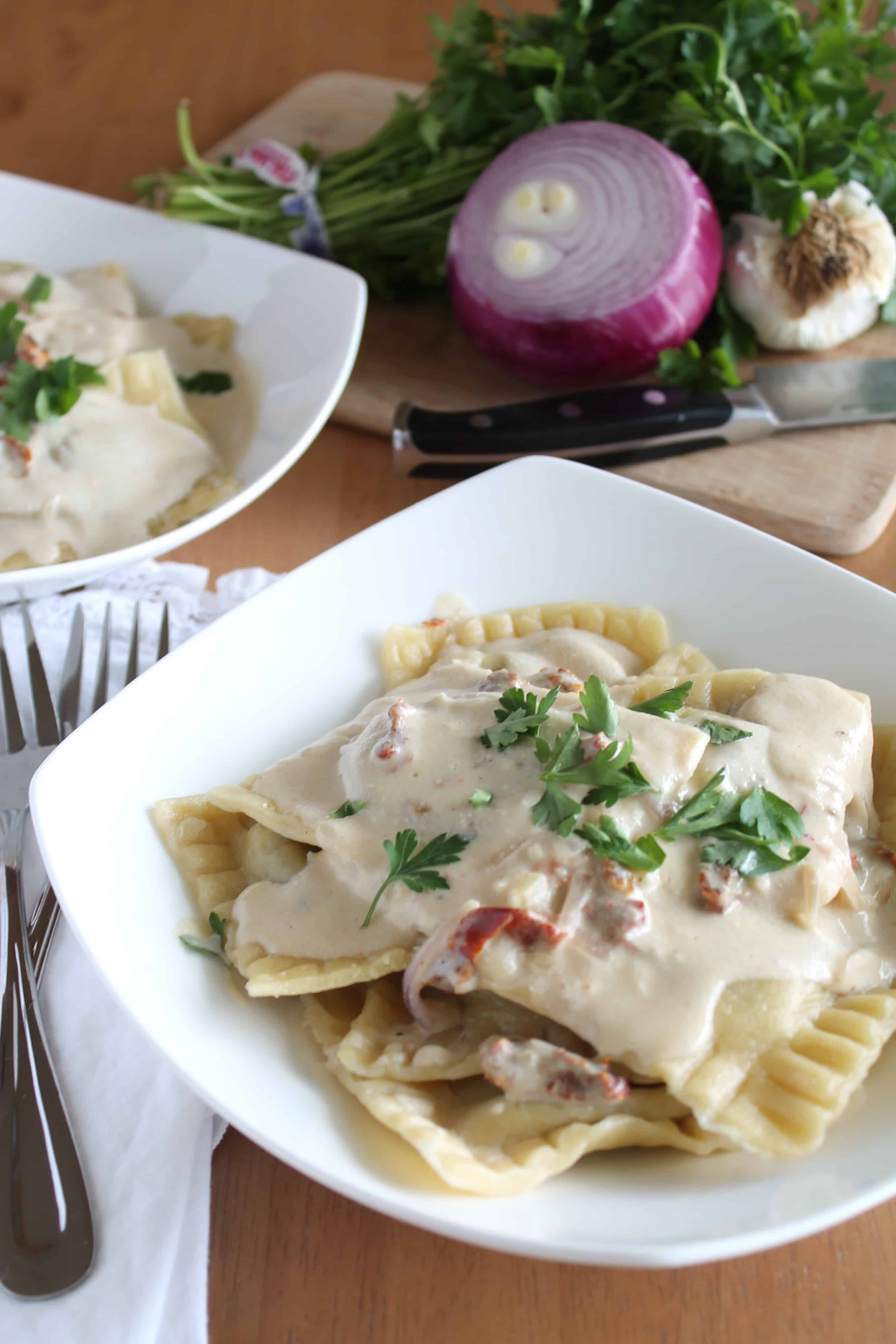 Happy Almost Valentine's Day!! Today, I've got a vegan homemade pasta entree to share with you, my fabulous readers.
     It is vegan, soy-free, sugar-free, and requires very little oil (really, you can just leave it out or use water instead). This entree could even be converted to be gluten free. All you have to do is buy gluten free pasta shells, stuff them with the mushroom filling, and top with the cream sauce.
     Or, if you're too lazy to make your own pasta, you could use pasta shells even if you aren't gluten free.
     But, if you have the time and the semolina flour, I'd say, "go for it!!" Making your own ravioli is so much fun and it tastes more than wonderful.
There's no need to be frightened, I'm going to walk you through the process step-by-step :)
First, you've got to buy some semolina flour. This proved to be the most difficult part of the whole process for me. I finally found Bob's Red Mill Semolina Flour at Publix. I would suggest checking at your local health food store like Whole Foods or Earth Fare, if you can't find semolina flour at your local grocer. I've even seen some recipes lately that make pasta using all purpose flour, leaving out the semolina entirely. But I've not tried it myself, so I can't recommend it yet.
Next, your going to need to make your ravioli filling. Prep your vegetables, and simply follow the recipe at the bottom of this post for Mushroom Ravioli Filling. It's as easy as that. (I just love the look of fresh veggies in the afternoon sunshine!)
Once your vegetables and cashew cream have cooked together, you'll want your filling to be thick enough to hold together, but not goopy, if you know what I mean.
Okay, before you go any further, you need to make your garlic sun-dried tomato cream sauce. Simply follow the recipe below, and set it aside, covered, until you are ready to heat it up and serve. (FYI, you can make this a few days in advance, if you want.)
Now, it's time to make your ravioli. Mix your flours, water, oil, and salt and knead it 5-8 minutes. Your dough ball should look like this when you cover it with plastic wrap and let is rest for 10 minutes.
Now, you're going to divide your dough into 2 equal parts and roll it out, long and thin (See recipe details, below). Put your filling mounds on the dough, and moisten the dough between the mounds to act as glue to hold your ravioli together.
Next, your going to cover your filling mounds with that other half of rolled out dough. Press the two sheets of dough together, starting int he middle, and working your way out and around the mounds, to get all of the air bubbles out. Now you can cut your dough into squares (or whatever shape you want your ravioli to be).
Bring a large pot of salted water to boil. In the meantime, you can use a fork to press ridges onto the sides of your ravioli.
Boil your ravioli for about 6-8 minutes, or until your ravioli have been floating on the top of the boiling water for a couple of minutes. Remove your ravioli with a slotted spoon, and drain them on paper towels. But don't let them cool off too much. You'll want to serve them up to your sweetheart while they're still hot.
Finally, you'll want to serve up a plate of food for your sweetheart. Arrange your ravioli in a plate or bowl, drizzle with cream sauce (not too much!), and garnish with fresh Italian parsley. Voila!
     And just like that, you've got a fabulous entree to impress your boyfriend, girlfriend, fiance, husband, wife, brother, sister, mother, father, son, daughter, dog, or cat.
     To me, Valentine's Day is all about love. Not just romantic love, but friendship love too. After all, isn't the ultimate gift of love seen from Jesus Christ to us His creatures? John 15:13 reads "Greater love hath no man than this, that a man lay down his life for his friends." (King James Version)
     If this Valentine's Day finds you celebrating Singles Awareness Day, take heart. Serve up this tasty entree to a good friend or family member (or yourself, for that matter), and you won't be sorry!
Oh, and while you're at it, don't forget about dessert!
Just take a look at that…
Coming soon: Spinach Avocado Stuffed Portabellos (gluten-free, soy free, and mostly raw) make a great appetizer!