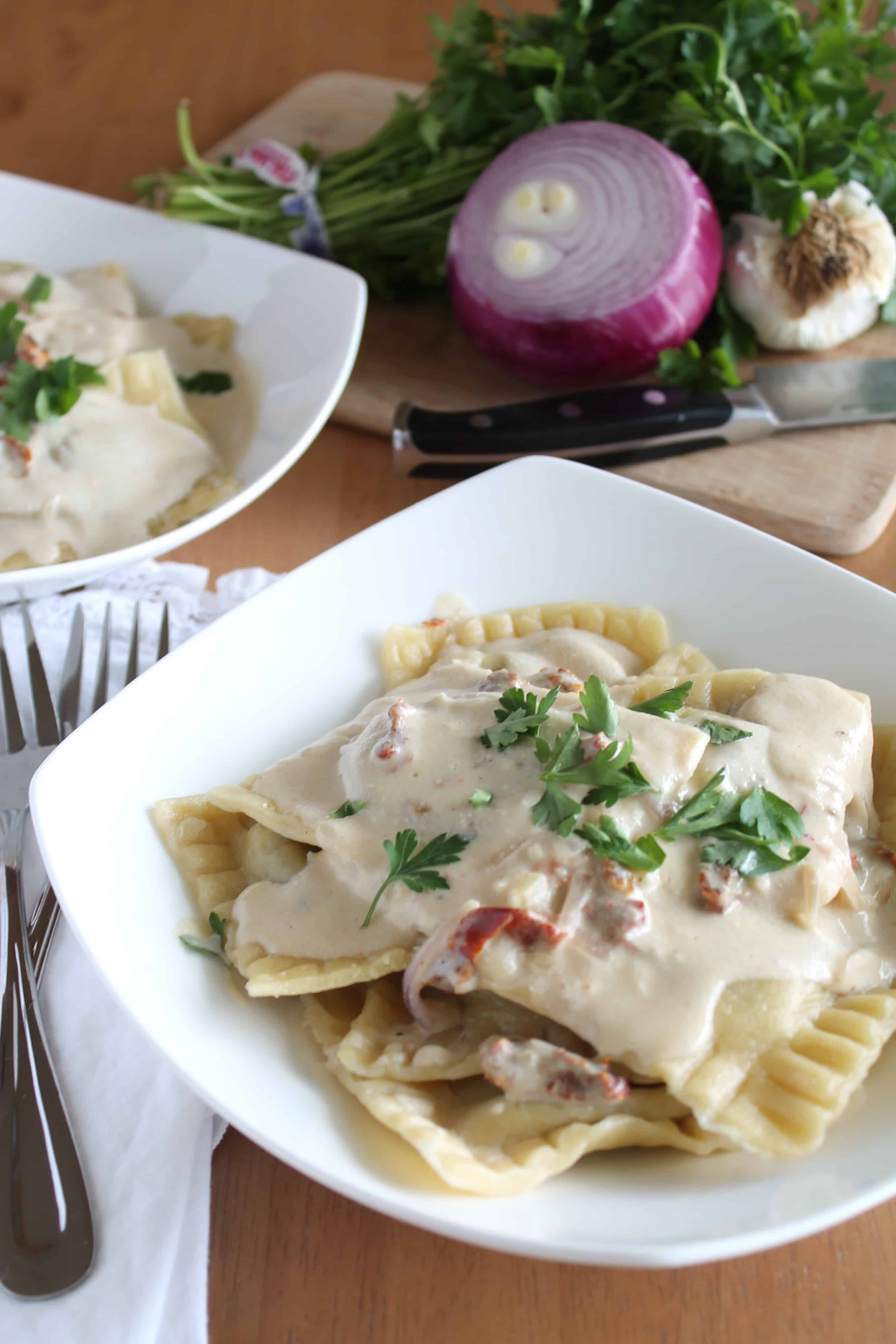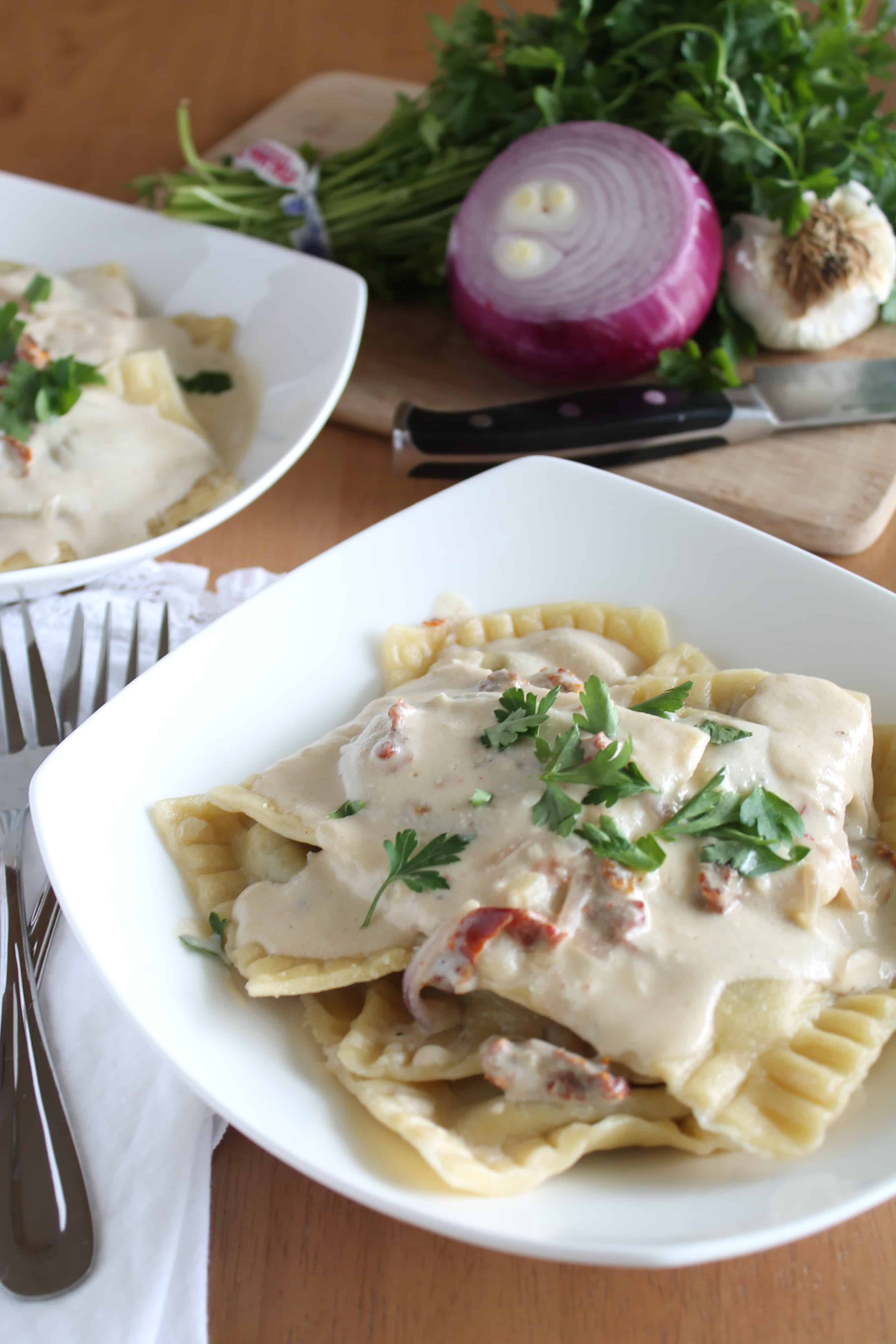 Happy Almost Valentine's Day!! Today, I've got a vegan homemade pasta entree to share with you, my fabulous readers.
     It is vegan, soy-free, sugar-free, and requires very little oil (really, you can just leave it out or use water instead). This entree could even be converted to be gluten free. All you have to do is buy gluten free pasta shells, stuff them with the mushroom filling, and top with the cream sauce.
     Or, if you're too lazy to make your own pasta, you could use pasta shells even if you aren't gluten free.
     But, if you have the time and the semolina flour, I'd say, "go for it!!" Making your own ravioli is so much fun and it tastes more than wonderful.
There's no need to be frightened, I'm going to walk you through the process step-by-step :)
First, you've got to buy some semolina flour. This proved to be the most difficult part of the whole process for me. I finally found Bob's Red Mill Semolina Flour at Publix. I would suggest checking at your local health food store like Whole Foods or Earth Fare, if you can't find semolina flour at your local grocer. I've even seen some recipes lately that make pasta using all purpose flour, leaving out the semolina entirely. But I've not tried it myself, so I can't recommend it yet.
Next, your going to need to make your ravioli filling. Prep your vegetables, and simply follow the recipe at the bottom of this post for Mushroom Ravioli Filling. It's as easy as that. (I just love the look of fresh veggies in the afternoon sunshine!)
Once your vegetables and cashew cream have cooked together, you'll want your filling to be thick enough to hold together, but not goopy, if you know what I mean.
Okay, before you go any further, you need to make your garlic sun-dried tomato cream sauce. Simply follow the recipe below, and set it aside, covered, until you are ready to heat it up and serve. (FYI, you can make this a few days in advance, if you want.)
Now, it's time to make your ravioli. Mix your flours, water, oil, and salt and knead it 5-8 minutes. Your dough ball should look like this when you cover it with plastic wrap and let is rest for 10 minutes.
Now, you're going to divide your dough into 2 equal parts and roll it out, long and thin (See recipe details, below). Put your filling mounds on the dough, and moisten the dough between the mounds to act as glue to hold your ravioli together.
Next, your going to cover your filling mounds with that other half of rolled out dough. Press the two sheets of dough together, starting int he middle, and working your way out and around the mounds, to get all of the air bubbles out. Now you can cut your dough into squares (or whatever shape you want your ravioli to be).
Bring a large pot of salted water to boil. In the meantime, you can use a fork to press ridges onto the sides of your ravioli.
Boil your ravioli for about 6-8 minutes, or until your ravioli have been floating on the top of the boiling water for a couple of minutes. Remove your ravioli with a slotted spoon, and drain them on paper towels. But don't let them cool off too much. You'll want to serve them up to your sweetheart while they're still hot.
Finally, you'll want to serve up a plate of food for your sweetheart. Arrange your ravioli in a plate or bowl, drizzle with cream sauce (not too much!), and garnish with fresh Italian parsley. Voila!
     And just like that, you've got a fabulous entree to impress your boyfriend, girlfriend, fiance, husband, wife, brother, sister, mother, father, son, daughter, dog, or cat.
     To me, Valentine's Day is all about love. Not just romantic love, but friendship love too. After all, isn't the ultimate gift of love seen from Jesus Christ to us His creatures? John 15:13 reads "Greater love hath no man than this, that a man lay down his life for his friends." (King James Version)
     If this Valentine's Day finds you celebrating Singles Awareness Day, take heart. Serve up this tasty entree to a good friend or family member (or yourself, for that matter), and you won't be sorry!
Oh, and while you're at it, don't forget about dessert!
Just take a look at that…
Coming soon: Spinach Avocado Stuffed Portabellos (gluten-free, soy free, and mostly raw) make a great appetizer!
Vegan Mushroom Ravioli
Decadent home-made mushroom ravioli pasta, smothered in sun-dried tomato cream sauce
Equipment
blender

rolling pin (or pasta roller)
Ingredients
For the Cream Sauce:
1/4

onion

(I used red, thinly sliced, then chopped in half)

1

clove

garlic

(minced)

1

teaspoon

extra virgin olive oil

3.5

ounces

coconut milk

(equivalent of 1 can)

1

cup

water

1/2

cup

raw cashews

2

tablespoons

nutritional yeast flakes

1

tablespoon

lemon juice

1

teaspoon

cornstarch

1/2

teaspoon

salt

or to taste

2

tablespoons

sun-dried tomatoes

finely chopped
For the Mushroom Filling:
8

ounces

baby bella or cremini mushrooms

(or 2 1/2 cups chopped)

1

cup

finely chopped onion

1

clove

garlic

(minced)

1

tablespoon

extra virgin olive oil

1

teaspoon

salt

1/2

cup

raw cashews

1/2

cup

water

1

tablespoon

finely chopped Italian parsley
For the Ravioli:
1 1/2

cup

semolina flour

1 1/2

cup

all purpose flour

1/2

teaspoon

salt

3/4

cups

water

+ 3 tablespoons water

2

teaspoons

extra virgin olive oil
Instructions
For the Cream Sauce:
Saute onion and garlic in olive oil for about 1 minute, or just until your onion is starting to get soft and clear. Remove from heat.

In a strong blender, combine coconut milk, water, cashews, cornstarch, lemon juice, salt, and yeast flakes. Blend until smooth.

Pour blender contents into saucepan containing sauteed onion and garlic. Stir frequently with a wire wisk as cream begins to boil. Add sun-dried tomatoes and stir. Allow mixture to boil for 3-5 minutes, or until foaminess on the top is gone and it is slightly thickened.
For the Mushroom Filling:
Saute mushrooms, onions, and garlic in olive oil just until tender and nearly all of the water has evaporated.

In a strong blender, combine cashews, water, and salt. Blend on high until there are no more cashew pieces and the mixture is smooth and creamy.

Pour blender contents into mushroom/onion/garlic mixture on the stove. Cook on medium-medium/high heat for about 5 minutes, or until cashew cream thickens slightly.
For the Ravioli:
In a medium sized bowl, combine your flours and salt until well incorporated. Form a small well in the middle.

In a small cup, combine 3/4 cup plus 3 tablespoons water and 2 teaspoons olive oil. Mix quickly with a fork, then pour into the well in your flour mixture.

Slowly push the flour into the water/olive oil, mixing with a fork until the dough is too thick to stir.

Using your hands, knead the dough for about 5-8 minutes. Form the dough into a big ball, and cover in plastic wrap to prevent drying. Set aside and allow the dough to rest for 8-10 minutes.

Divide your dough into 2 equal parts. On a very lightly floured surface, roll (using either a rolling pin or a pasta roller) each half into a long rectangular piece (about 33 inches long (or longer) by 6 inches wide).

Using a butter knife, gently score one piece of rolled out dough into 24 squares (They will be roughly 2.5 – 3 inches on each side).

Now, pull out that mushroom filling that you have prepared. Place mounds (about 2 teaspoons in size) in the center of each ravioli square.

Now, keep a cup of water next to your dough, and wet your fingers. Using your fingers, Moisten the score lines of each ravioli square. This moistening will be the glue to hold your ravioli layers together.

Carefully place the second strip of rolled out dough on top of the first, and press down gently around each filling mound.

Cut each ravioli square with a knife, and use a fork to form ridges on each edge, if you prefer.

At this point, you can either put your ravioli on a tray and freeze or refrigerate them, or you can cook them immediately by placing them in salted boiling water for 6-8 minutes, or until they have been floating on the top of the boiling water for a minute or two.

Remove ravioli from boiling water with a slotted spoon, and place on a paper towel to drain for just a couple of minutes.

Drizzle some sauce over these babies, and I guarantee you that your sweetheart will be very impressed. :)
Notes
A little goes a long way with this sauce. Its richness largely depends on the type of coconut milk that you use. I recommend using full fat coconut milk for this recipe. If you are serving this on pasta, start with just a little sauce, and add more gradually by taste, if you need it.
**This post contains affiliate links. As an Amazon associate, I earn from qualifying purchases.
Nutrition
Calories:
591
kcal
|
Carbohydrates:
83
g
|
Protein:
19
g
|
Fat:
22
g
|
Saturated Fat:
7
g
|
Sodium:
953
mg
|
Potassium:
734
mg
|
Fiber:
6
g
|
Sugar:
5
g
|
Vitamin A:
85
IU
|
Vitamin C:
6
mg
|
Calcium:
45
mg
|
Iron:
7
mg