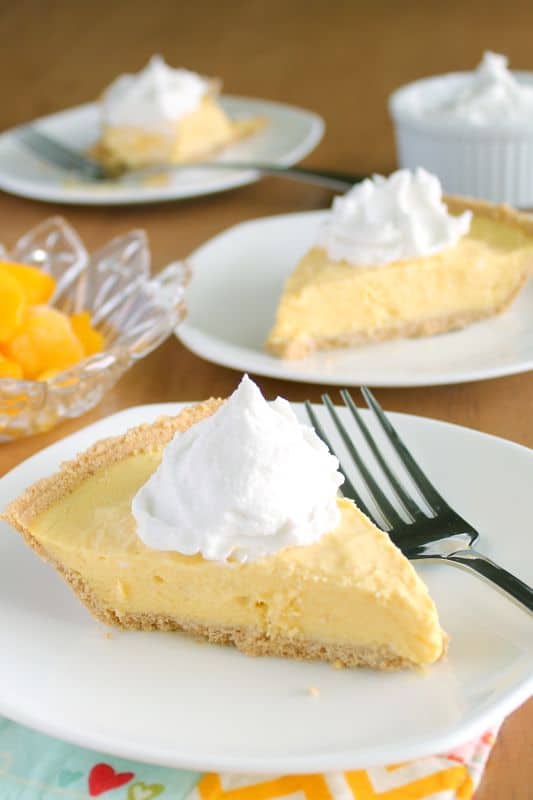 Greetings, Friends!
Today, I am counting my blessings. I have SO much to be thankful for…
My Great God
My wonderful husband
Baby M
Supportive family, close and distant
Numerous generous and supportive friends
Education
Internet
Computers, cameras, and other tech-y things that make my life easier
Sunshine
A fabulous apartment with a pool :)
Sunshine
Workout partners
The fact that Baby M is starting to sleep better at night
Potential job and volunteer opportunities
Good news arriving in the mail
I could go on and on, but I'll spare you. This week Jonathan and I received some particularly good news in the mail. It's kind of too personal to share on the World Wide Web, but let's just say….we are grateful.
In fact, the good news arrived right about the time I was whipping this together:
So, I'm just going to put it out there: Best frozen pie. Ever. It's creamy, low in refined sugar, cold, sweet, mango-ey, and everything you've ever wanted in a frozen pie.
(Okay, so I may be a bit biased. ;) )
Could somebody please turn this into a vegan mango ice cream?
Could somebody else give me a low-fat salad inspiration, so I'll stop packing on the pounds with all of this deliciousness?
I hope you all find an excuse to give this a try in the next week or so. You won't be sorry. Promise. And, because, I'm just so blessed tonight, I have to share TWO food for thought verses with you.
"But my God shall supply all your need according to his riches in glory by Christ Jesus." Philippians 4:19 (KJV)
"O taste and see that the LORD is good: blessed is the man that trusteth in him." Psalm 34:8 (KJV)
Happy Day!
Print Recipe
Vegan Frozen Mango Cream Pie
Ingredients
3/4

cups

coconut cream

the solid part in a can of full fat coconut milk, or use Trader Joe's coconut cream

1/4

cup

crushed pineapple

I used canned

6

oz

frozen chopped mango

or 1 and 1/2 cups

1/4

cup

almond milk

2

tablespoons

pure cane sugar

or agave nectar or other sweetener of your choice

1

teaspoon

vanilla extract

1

prepared graham cracker style pie crust
Instructions
Blend all ingredients (except the crust, obviously) in a strong blender (like Vitamix) until it is nice and creamy smooth.

Pour blender contents into a prepared graham cracker style 9 inch pie crust shell. You can use a vegan store bought variety, or make your own. I was lazy, so I used store-bought.

Put the pie in your freezer for about 4 hours, or until pie is essentially frozen solid. Allow pie to soften for about 10 minutes at room temperature before serving. If the pie has been in the freezer overnight, you may need to let it soften for more like 20-30 minutes before serving.

Serve! :)
Notes
I used a store-bought variety graham cracker crust for this recipe. However, if you want to make this gluten-free, you could certainly use a gluten free crust as well. My mom makes a fabulous GF graham style crust that uses almonds. Or, if you really want to take this to the nutritional stratosphere, make a raw crust! Unfortunately, I don't have any GF or raw crust recipes to recommend at this very moment.
This pie keeps for just a few days in the freezer. I would try to eat it within 3 days, as it has a tendency to get freezer-burned quite easily.
This post may contain affiliate links. As an Amazon associate, I earn from qualifying purchases.
Nutrition
Calories:
212
kcal
|
Carbohydrates:
23
g
|
Protein:
2
g
|
Fat:
13
g
|
Saturated Fat:
8
g
|
Sodium:
112
mg
|
Potassium:
142
mg
|
Fiber:
1
g
|
Sugar:
11
g
|
Vitamin A:
230
IU
|
Vitamin C:
9
mg
|
Calcium:
20
mg
|
Iron:
1
mg